May 19th, 2009
the film with Gerard Depardieu
three times in the cinema when it came out in 1990 and I've watched it at least once a year since then. So much of it is light comedy, but it somehow really resonates with something in my psyche and I think it must be my favourite film. I watched it late last night, which meant I had to splash cold water on my face when it finished so I wouldn't get streaming tears all over my pillow. (Nothing like a great sob before bed.)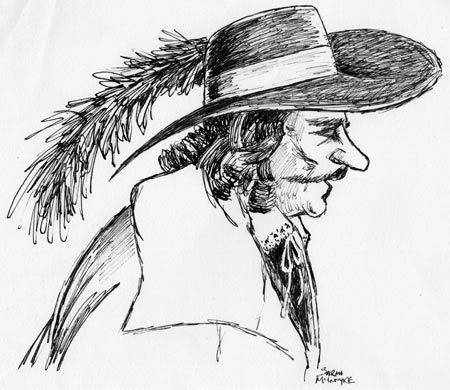 This is just a quick sketch, I tried to loosen up a bit with the linework, but I'm not sure I like it. I'd love to do a comic about Cyrano, there's one for the ideas folder.
YouTube link
Drawing Anna Akhmatova yesterday made me think of my all-time favourite character with a splendid schnozzle. I saw
I am not totally sure about the ending, but that is okay, I will go sleep on it now.
Hey, exciting! I had a sudden idea for a Cyrano de Bergerac comic and managed to bang out the whole script in half an hour! Woot! I'm going to try to get up early tomorrow morning and ink it. I hope I can ink as fast as I did the pencil, or it ain't gonna happen. ... Yes it will, yes it will!