May 24th, 2009
This is my favourite one, what a fabulous cheeky face.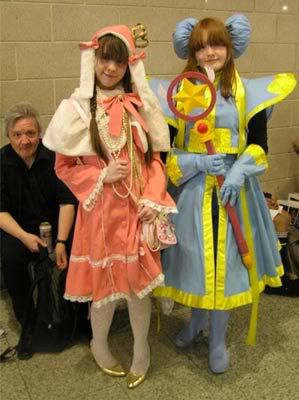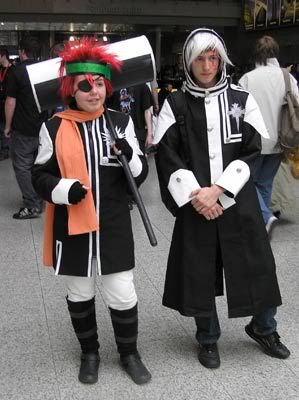 This one of the two girls makes me laugh/weep, seeing the face of the guy behind them with the can of Stella.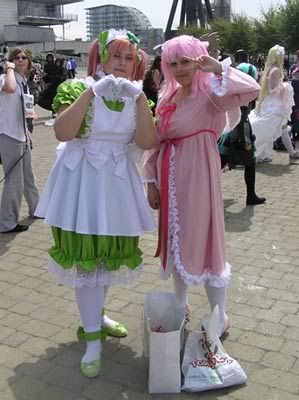 Cosplayer Bingo, thanks to our table neighbour
Philip Spence
of
Ninja Bunny
I'll post some more tomorrow, but here are a choice few from today...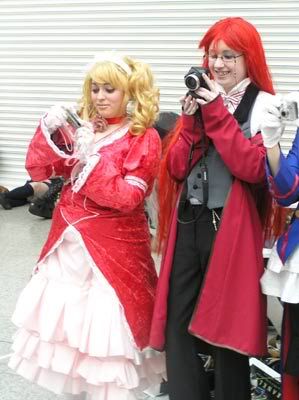 I think this costume on the right is what I would wear if I decided to go as Extreme Audrey Niffenegger.
Disney's
Enchanted
costume and Pikachu
(
More photos under the cut
Collapse
)
Later I'll post pictures and links to the people I actually knew at the Expo, but here are a few more costumes: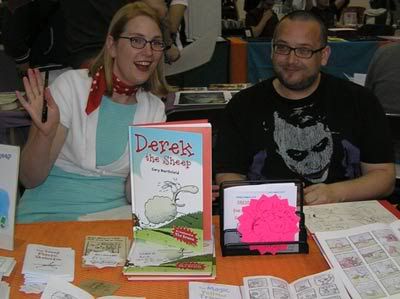 Here's me selling a few bits and bobs at
Gary Northfield
's table at
London's MCM Expo
, where he kindly let me crash for a few hours. Look, he drew a picture for me!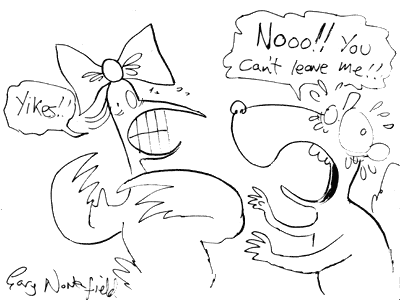 This one's from one of my favourite
Little Cutie
strips, with Sophie the cygnet and Dudley the squirrel (Sophie's short-term boyfriend who is not quite up to the task).
(Read it here!)
Gary asked me to draw Derek the sheep and Vern in pirate costumes, so here it is: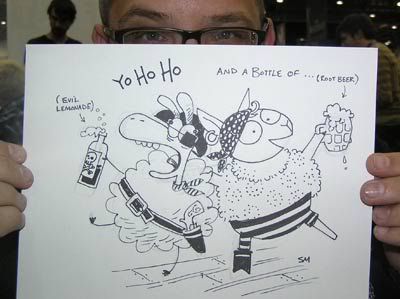 We had some lovely small press favourites a few tables over: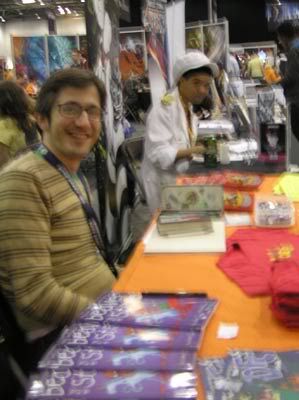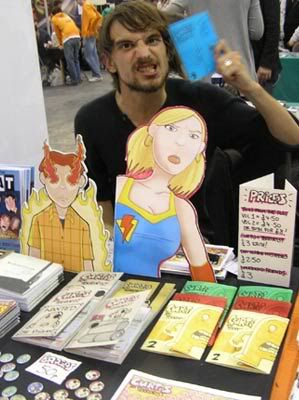 James Turner
and
John Aggs
(both DFC mates), and London Underground Comic's
Oliver Lamden
. James spoke on a panel with
Marc Ellerby
(
Ellerbisms
),
John Allison
(
Scary Go Round
) and
Paul Duffield
(
Freakangels, Manga Shakespeare
).
Here's the loot I picked up: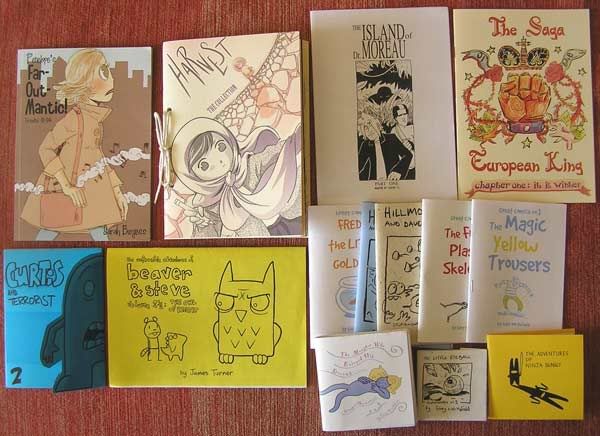 Penelope's Far-out-mantic
by
Sarah Burgess
;
Harvest: the Collection
by
Asia Alfasi; The Island of Dr Moreau by
Claude TC (
ryclaude), The Saga ofo the European King by
Tom McNally
,
Curtis and Terrorist 2
by Oliver Lamden,
The unfeasible adventures of Beaver & Steve, volume 2 1/2: the owl of regret
by
James Turner
,
The Adventures of Ninja Bunny
by
Philip Spence
, and I stocked up big-time on
Gary Northfield
's stuff:
The Magic Yellow Trousers, The Funny Plastic Skelenton, Hillmonster and Dave the Dinosaur, Freddy and the Little Goldfish, The Monster who Enjoyed his Dreams,
and
The Little Eyeball
.
(
More write-up under the cut
Collapse
)