June 5th, 2009
vivschwarz
:
My dad sometimes warns me not to turn into this lady. I wish! He just means the makeup, sadly
gnorthfield@vivschwarz
:
Holy cow. she's gone mad.
vivschwarz@gnorthfield
:
No no, she's meant to be like that. She's a national treasure.
gnorthfield@vivschwarz
:
I think that's probably the best vocal ending to a song I've ever heard.
garenewing@gnorthfield @vivschwarz @jabberworks:
That Nina Hagen vid is fabulous. Have you seen the brilliant Klaus Nomi?
I just came back from visiting my editor and designer at Scholastic, where I got to see my picture book printed up for the first time! I was very nervous, because you never know how these things will look, but it looked better than I thought it might, such relief! The colours were a bit light, but they're used to that, and the printers are going to go back and adjust them, so it's all good. And I forgot to paint one tiny thing, so I'm going to go do that now. Now I know the launch date is
May 1st, 2010
, no one go away then, I'm going to make cupcakes or something! (I'll learn how to make them properly this time.)
On the way back hom, I treated myself to the Jamaican equivalent of a bento box at the new local takeaway cafe/bakery. I didn't know what to order, but the nice lady behind the counter picked out a great lunch for me, and I tell you, there's nothing like curried goat and red rice with beans to make a cold grey day feel a little warmer. It's really tasty! (Sorry, vegetarians.)
I'm going over to Viviane Schwarz's to do some figure drawing this afternoon, so I will post some thing from that later. But Viv just posted this link on Twitter and it had me in hysterics. It just wouldn't be the same in French.
Viviane Schwarz
and
Alexis Deacon
to take turns drawing each other. We didn't really fancy stripping down for 'proper' life drawing and our work usually has us drawing people with clothes on anyway, so we got in some good practice, to the sweet and sometimes racous tweeting of many little birds. Here's Viv modeling for
David O'Connell
(
tozocomic
),
Gary Northfield
and me.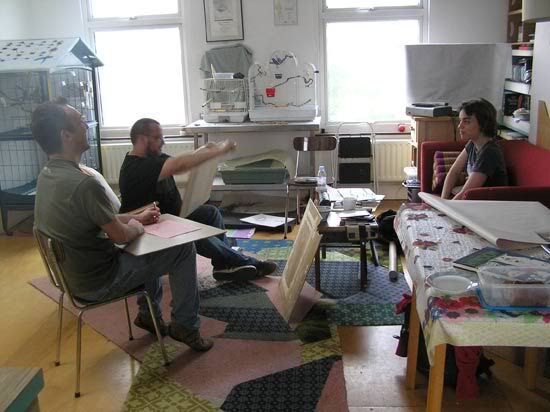 My first couple drawings were absolutely terrible, but I got better toward the end; here's one I did of Viviane that we both liked:
(
More photos under the cut
Collapse
)
Edit:
Hey, more moustachioed Garen pics! One by
Sean Kleefeld
and another by
Rick Eades
(
eadesmust
).
A bunch of us were thinking our life-drawing skills were getting horribly rusty, so we met up at the home of