June 10th, 2009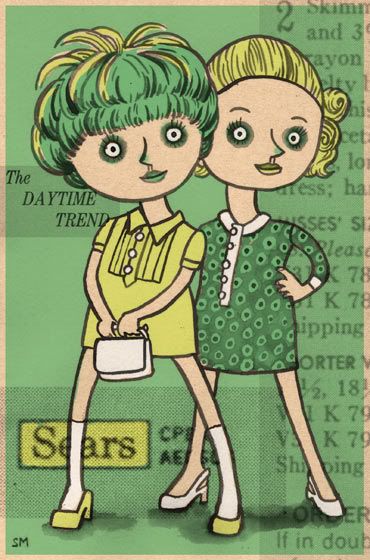 For today's morning sketch, I drew from a '60s catalogue page. Here's the original ink image, and then I played around with it on Photoshop. Not sure which one I like best, though.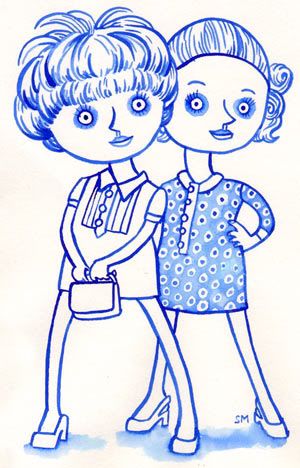 Have you seen
Darryl Cunningham's
latest posted comic,
Dementia Ward
? It's a fascinating insight into Alzheimer's disease and those it affects, from his experiences working at a hospital. (He's
tallguywrites
.) It's a great read,
go have a look!
Edit:
Darryl's posting a strip a day from this series for five days,
here's the second.
And I just read a lovely little book which is so clean and simple that it looks like a comic you'd buy at an alternative press fair. But it's actually republished from the Dutch this year in the UK by Winged Chariot Press:
Sweets
by
Sylvia van Ommen
. You can see different covers for it in different countries
here
. (The American version is called
Jellybeans
and the cover isn't quite so simple. Which is typical, American covers usually look fussier.) Lovely simple line art; a cat and a rabbit go on a picnic and ponder on heaven, how they'll find each other at the entrance, and whether there will be sweets there.
Viviane Schwarz
reading from her brilliant cat book!
Isn't it the most beautiful and simply ingenious book you ever saw? And I love listening to the way she reads! (Wait, Viv, how did you do that underwater voice??) Here's her blog post about it,
everyone, go leave a comment for her!
And very excitingly, Viv's going to be sharing a studio with me, starting this August! And the other awesome person we are going to share with,
Gary Northfield
, just had his
Derek the Sheep
book taken up by Booktrust's
Booked Up
reading scheme. Two million kids will get to choose one free book from a stack of twelve... I bet they'll all go for Derek, heh heh! I feel sorry for the other eleven people whose books were chosen that don't have any pictures, they can't compete with a sheep going crackers.
Here's
'Yes, but what is it?' I ask him. He can't really describe it. 'But it's nice with ham,' he says. I look it up on
Wikipedia
, which tells me it's the same thing as pease porridge, and that it can be eaten hot, cold, or in the pot nine days old. Oo, and it also says this is part of 'Jigg's dinner', the favorite meal of Jiggs, the central character in George McManus's comic strip,
Bringing Up Father
.
I am guessing this is another one of Stuart's post-war mystery mushes, that only have nostalgic taste value. But I am hoping I am wrong, I'll keep you posted. (For more edible and semi-edible mysteries, have a look at
benchilada
's foods he tries
'so you don't have to'
.)
I bought a ham this weekend and Stuart had a sudden brainwave and declared we couldn't have boiled ham without pease pudding. So he bought two tins.
last post
, we cracked open the pease pudding and had a look. It was very... beige.
It looked like lumps of dry chalk in the pan, but I stirred in some water, which made it seem more edible. Then, the moment of truth...
(
Under the cut...
Collapse
)
Following from the