Okay, I'll start with some random sketches I made:
You can read some newsy updates about the
Caption
comics festival in Oxford this August
over on Bugpowder
and on
Forbidden Planet
. (I'm going to talk about cross-over stuff in the picture book and comics industries.)
On Friday night, I went to see work by an American living in London,
Charles Michael Reid
. He'd be doing some on-site installation work for the past week at the
House
gallery in Camberwell, where I used to work. His artwork draws hugely on comics, and there's some great stuff
on his website here
. If a certain funding comes through, we're really hoping he can stay on to coordinate exhibitions in the House gallery space.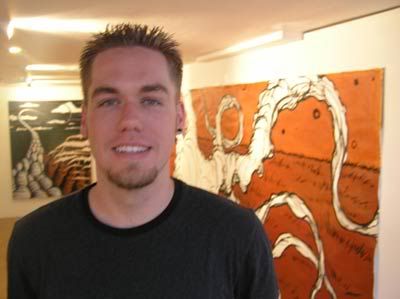 DFC buddies
Emma Vieceli
(
emmav
) and
Gary Northfield
both had their big birthday parties on the same day! So I went party hopping with John Aggs, Viviane Schwarz and
mondoagogo
.
Confession time, Gary, I was supposed to give this card to you from my neighbour friend, but I mislaid it... so it will come to you a little bit late! Eek. But isn't it lovely?
(
Collapse
)