June 17th, 2009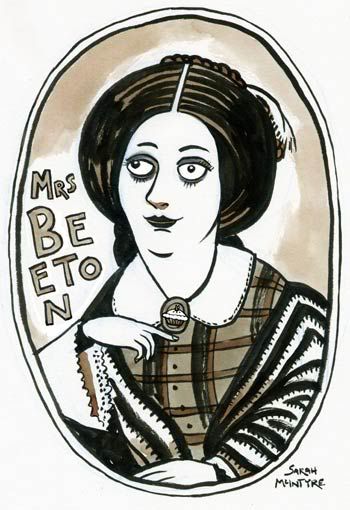 The other day I was having my morning coffee in a cafe that had copies of
Psychology
magazine lying around, and I found a photo of
Mrs Beeton
, one of history's most famous cookery writers. I'm impressed by this
colour plate from her famous cookbook
, I must track down the whole volume and have a good look at the illustrations.
(
Here's where I whitter on for a bit about cooking
Collapse
)
La Fleur
. There were big, fat, ripe strawberries on the bush right next to my table and I was willing myself not to steal one, but the nice owner saw I was swooming with the effort of restraint and let me pick one.
Then I inked it on my break. Which is probably not what one is supposed to do on a break, it's probably healthire to stretch or go for a walk or something.
Hey, the original of this looks clean and nice, want to buy it? £40 + £5 registered mail postage via Paypal for people in the UK, £6.50 postage for Europe and £9 for anywhere else. Drop me a line at sarah at jabberworks dot co dot uk. (Artwork size is 28 x 17cm, ink on cartridge paper.)
I quite like how this one came out! A bit minimalist. I penciled it while I was having my morning coffee at this great little garden cafe run by French ladies, called
Left-handed toons (by right-handed people)
.
Looc Yrev! (Very cool, but backwards!)
(Click on the pic to read the whole strip.)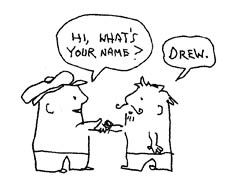 Hey, my strip's featured on