July 13th, 2009


The only snag I've hit so far, and it's a big one, is that my old scanner and printer aren't supported by the latest Mac software. Curses! (They're an Epson Perfection 1200 Photo and an A3 Epson Stylus Photo 1290.) They are so, so good, this is such a hideous waste! Grrr.

Well, I guess I'll have to decide if I get another A4 scanner or upgrade to an A3, and figure out what's a decent A3 printer. I'm partial to Epson, but I could be persuaded otherwise. Let me know if you have any recommendations!

Edit: I've got them both working now, thanks SO much for your help! xx
Well, the first one was a dud and I had to shlep it back to the Apple store on Regent Street, but the second beast seems to be working okay. I decided to get a MacBook Pro in the end and I'm trying to come to terms with it not being my old computer. (I was very attached to my last one.)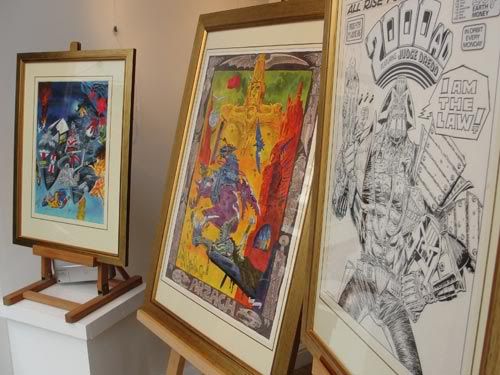 I stopped by the
Illustration Cupboard
on my second trip back from the Apple Store today and happened upon John Huddy putting up artwork for the latest show, of original artwork by
Kevin O'Neill
from
The League of Extraordinary Gentlemen, Judge Dredd, Nemesis the Warlock
and
Marshall Law
. Do stop by if that's your cup of tea, there are some fine examples on display. The exhibition runs until 8 August.
Psst, John hinted Kevin and Alan Moore would both be at the show opening tomorrow evening, if you fancy meeting them...
Thanks to everyone who helped me sort out my printer and scanner! The tip by
lesmcclaine
to download applications for seemingly obsolete equipment from
VueScan
was just what I needed. (Have you seen his fab
Johnny Crossbones
comic?)
I found this pot during our foray at the dump, at the same time as I nabbed the roller blades. So I painted the pot before I did the
painting on cardboard
.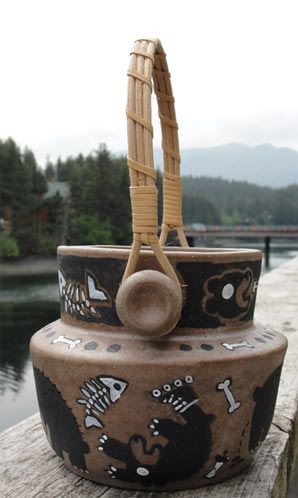 (
Lot more animals photos here, mostly otters
Collapse
)
I took loads of sea otter photos on our trip to Alaska, they didn't seem to mind our boat nudging up fairly close for a peek.