July 15th, 2009
In my family's true style, a lot of our trip revolved around food and long meals on the deck. Here's one of the two grocery stores in town where we bought everything but fish (which came either from the stuff my uncle had caught, in the freezer, or carried over by neighbours). It's called the Crab Pot and run by a lady named Ta-Ta.
There wasn't a huge selection because the town is so small and the food has to be transported long distances. But it cracked me up that, despite this, the shelves were stocked with three different types of maple syrup. Hello, America!
And lots of molasses.
(
More photos here
Collapse
)
Here's the last of my posts about Alaska (well, probably). Here's a picture I drew of my family at dinner iin the Tidepool cafe in Seldovia. It was great to see them all. I just surprised my parents by calling them on Skype on my new computer this morning/ their evening. They got all giggly when they realised they could see me and Stuart on their screen and my mother straight away got on my dad's case about getting their own web cam.
tozocomic
to see this year's crop of master's degree students at my old art college, including my friends
Dan Fone
(also my website designer) and
trypanocorax
. (Congratulations, guys!) Unfortunately, my brain was totally zombified by this stupid ongoing jet-lag, so I was pretty incoherent all evening and I missed a lot of stuff. So I'll probably have to go back and have a look at the exhibition during the week.
(Details here.)
From what I've seen so far, the best of show went to
Mark Long
, with his
Football Chants
. I bought a copy of his
Selected Football Chants
, a gorgeous two-colour mini. But the one on display had every page screen printed, and it was pretty amazing. It reminds me a bit of
Jonny Hannah
's work, with the lettering and slightly naive, bold figures.
(Hey, look, I drew Peter Crouch, too!)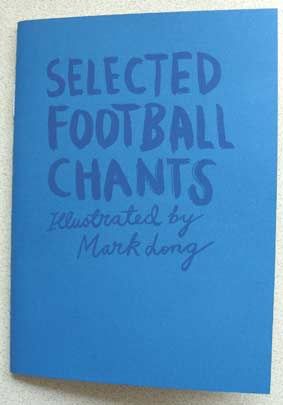 Gwen Turner
and
Thomas Flintham
also had some lovely work on display. Actually, I was really impressed with the whole illustration group, I think they've taken the quality up a notch from previous years' shows. Do go see their work this week if you're able, or visit their
group website
.
I wish I'd taken a photo of the entryway, which was
covered in toast
. And as I was going,
Myles Calvert
gave me my very own piece of varnished toast. I've seen toast art before, but I still thought it made for a memorable business card.
Last night I went with