August 1st, 2009
wine bar and shop
south of the river. Two of our best friends named their kid Laurence, after the place, although the mother denies this.
Along the way we saw a the cutest-ever car, this little Austin (in front of the
Rivoli Ballroom
, where Stuart and I have jive danced very inexpertly):
Made even cuter by the fact we don't have to have a car ourselves. That's one of my qualifications for the Good Life, that I don't have to own any sort of motor vehicle. When I lived in the Seattle area, we practically lived in our car, either sitting in traffic jams or driving round and round trying to find a parking space. Hopefully never again! But if I were to own one, I would probably want a
Nissan Figaro
, which is a totally girly choice and any car expert would scoff.
Last night Stuart and I celebrated our tenth anniversary and went for dinner then for a walk to visit Mr Lawrence, who runs the best-stocked
Today Gary, Viv and I moved into our new studio! We spent a bit of time running around the old police station just being excited, then we decided the walls really were a foul shade of pink and got some paint and then I found a perfect work table for forty quid at Deptford market, and then Gary was a total angel and helped me lug it back. And then we spent the rest of the day speaking in run-on sentences.
Here's Gary with our first three pieces of furniture: a chair, my Flinstones mug and a box of tea. And Viv and Gary examining one of the holding cells.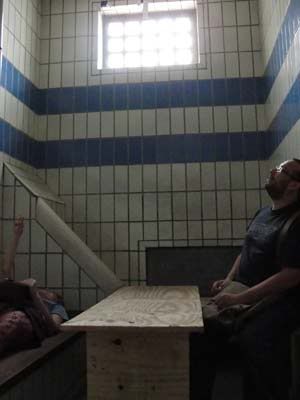 (
More studio shots under the cut!
Collapse
)