August 2nd, 2009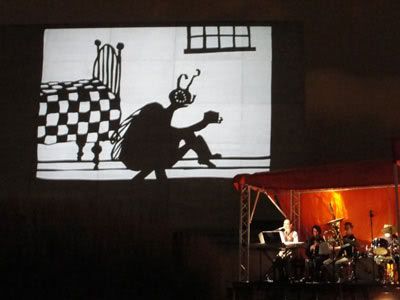 Last night
Viviane
,
Gary
and I celebrated moving into our new studio, where we went to see a performance on the south bank by Viv's friend and art school classmate
Matthew Robins
, his partner and puppeteer Tim Spooner and a band of musicians. The show was wonderfully low-tech: Matthew played piano and sang the story, while Tim worked organisational magic, getting all the little bits of paper onto the screen for the first story, and in the third story, using layers of video projection, paper backgrounds and puppets. The enormous concrete chimney of the National Theatre made an amazing screen.
Here's Viv with Matthew in the bar afterward:
Matthew was talking about the low-tech elements of the show, and how he'd had to convince his talented musicians not to sound 'too good', more like a high school band. He has a lot of writing and cutting-out work still to do; the group are doing a different show at the NT for the next four weekends and he still has to come up with next week's story,
Flyboy and the Haunted Horse
. He also commented that a lot of people compare his lettering to
Rob Ryan
's, but wryly said that, unless people make a serious effort to do a very fancy font, letters cut out of paper just tend to look like that. (Which I think is true,
chamonkee
often does similar lettering and I'm pretty sure he hasn't been influenced by Rob Ryan.) I'm surprised Matthew hasn't been snatched up by a picture book publisher yet, his work would transfer almost seamlessly to printed books.
Here's the schedule at the
National Theatre
. He's asking for people to
knit a dinosaur
for his show on 15 Aug, and to bring it along to the show before 9:45 so it can be included.
(
Click here for more photos from the show
Collapse
)
posted this photo on her blog
of me looking pleased as punch at my new desk.
We still have teo get some things sorted (like bookshelves and a plan chest - anyone have a spare plan chest?) and our freshly spruced-up walls are still pretty bare. Although Viviane has somehow managed to make the space just above her desk look like she's been there for months, with all sorts of interesting little books and things to look at. That big piece of wood behind me came from someone who dumped it right in front of my front door at home last night, so we brought it into the studio and are going to use it as a cutting table. I wish all fly-tippers were as well-timed and thoughtful as this one.
Hee hee, Viviane just