October 16th, 2009
Morris the Mankiest Monster
. The prize goes to...
Ezekiel Arthur Norris Bloomfield!
The submissions were brilliant, but the clincher was the story Ezekiel enterprisingly wrote onto the back of his
Ghost Killer
monster:
When Ghost Killer was alive, he used to hunt for beasts until some hunters came and killed him! He now haunts the world and kills ghosts and hunters.
...Excellent. Congratulations, Ezekiel!
If you're in
Dublin
this weekend for the
Children's Book Festival
or
Irish 24 Hour Comic Day
, do come make monsters with me! I'll be leading a workshop at the comic day main venue, the Central Hotel,
tomorrow (Saturday) at 5:30pm
, then I'll be doing a book signing (and might make some more monsters) at
Waterstone's, Jervis Street on Sunday from 2pm
, then hopefully go for drinks with
ztoical
(who will most likely be crashing after the tremendous amount of work she's put into organising the weekend). Then I'm doing a
Monday 11am-12:30 workshop at Easons bookshop
, then a
1:00 workshop at the Central Library
. Looking forward to going to Dublin, haven't been there since I went on a Ireland road trip when I was 18!
Ha ha... did you see the Morris drawing by
Garen Ewing
in yesterday's comments? Too funny!
Garen, you rock
.
Before I head off to Dublin tomorrow morning, I need to announce the winner of Birmingham's 'Make your own Monster' contest, held at the launch of
Frankfurt book fair
), but managed to slide this one in the margins for the upcoming
Comica festival
. (You can see
earlier versions here
.) It's not the final illustration, Peter Stanbury's still going to do lots of things to it, so I am trying to let it go and not worry about it, heh heh.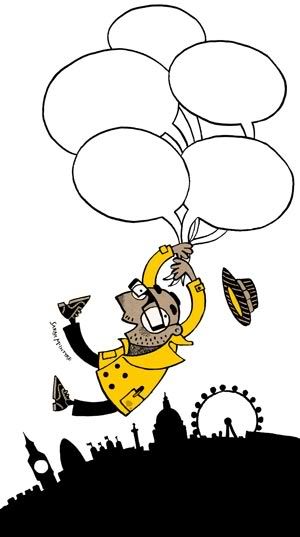 Any resemblance to anyone living or undead is purely coincidental, of course.
DFC news here!
Congratulations to
Kate Brown
with her
Spider Moon
,
Dave Shelton
with
Good Dog, Bad Dog
and
Adam Brockbank
and
Ben Haggarty
with
Mezolith
for being the first DFC strips to go out in book form! Get ready to pick up your own copies this spring. Exciting!
The other cool thing, don't miss today's Guardian supplement,
Great Fairytales, part 7: Beastly Tales
, absolutely crammed full of illustrations by the amazing
Eleanor Davis
(
squinkyelo
). Yay! I swear, that woman never sleeps.
I'm working like a maniac on this picture book (much of which is already selling at the