October 20th, 2009
ztoical
for Irish 24 Hour Comics Day, four workshops and running around Dublin! But here's
Emily McClave
from
Children's Books Ireland
and a poster I made for her and
Tom Donegan
right before I left, when I was too knackered to do anything else but sit in their beautiful Georgian office and draw something. I'm posting some sketchbook doodles now and I'll post some workshop stuff and comics links tomorrow.
One of the fabulous things about this weekend was having
minders
!
Cliodhna Lyons
ran the comics day and liased with the children's book people and made sure everything ran smoothly, she's amazing. Then Tom Donegan took me around workshops on Monday, and Live Journal buddy and Dublin local
Dale O'Flaherty
(
daleof
) took care of me on the Saturday and Sunday, getting me to one of the workshops and making sure I didn't get mugged or run over. (If I'd been made of bone china, I couldn't have been better looked after, heh heh. Thanks, Dale!)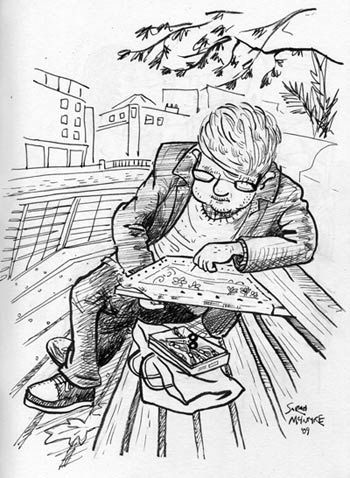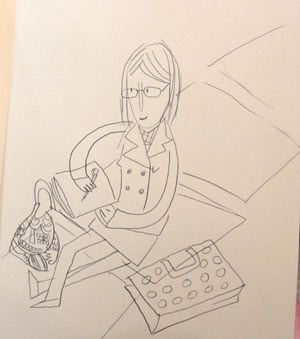 Here's an old guy Dale and I sat next to by the river. He was doing some needlework and let me draw him, it was a bit magic, really. I'd love to spend a bit more time drawing him. The second pic's by Dale, of me sitting on the ground sketching something.
Dublin's one of the cities who have started up
a bike share scheme
, so I got excited about that:
And here are some drawings Dale did of me while I was being a total wide-eyed tourist and he was trying not to be embarrasssed. It was great running around town with someone else who's happy to get out the sketchbook.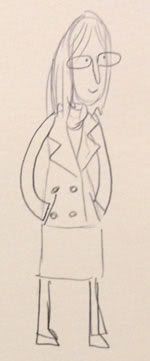 Here's one I did of Dale in the pub, I think it came out well!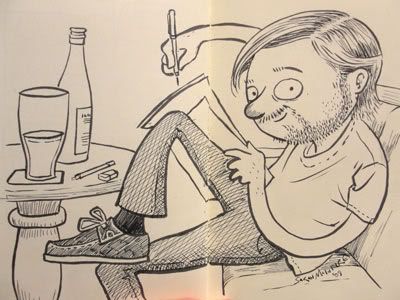 Showing off our inky fingers.
Too much to write about in one morning, what with meeting up with
Saturday
with my studio mate
Gary Northfield
this weekend at London's
MCM Expo
! Come along, it's a great chance to see some crazy costumes!
(Here are some pics from previous years.)
You can buy
Morris the Mankiest Monster
for a tenner, which will also get you a drawing in your book and some lovely badges.
Derek the Sheep and Vern craft session with googly eyes and bubble wrap
On
Sunday
, there's a
huge comics event happening in Cambridge
! You don't have to be female to come to the
Women in Comics Conference
. (Woodrow Phoneix is speaking as an honourary female.) I'll be selling
Morris
books there, and here's the gist of the talk I'm giving:
Comics & Picture Books: women bridging the gap
When Sarah McIntyre got to know lots of picture book creators, she noticed that the majority of them were women. But when she started hanging out with comics people, she found she was often the only female in the room. She's made both picture books and comics, and thinks there are a lot of comics creeping by stealth into the picture book industry that comics fans might love to find out about. Come along on her tour showing work that bridges the two genres and broadens the definition of comics, and perhaps get some ideas for your own artwork.
Hey, I'm sharing a table on