October 23rd, 2009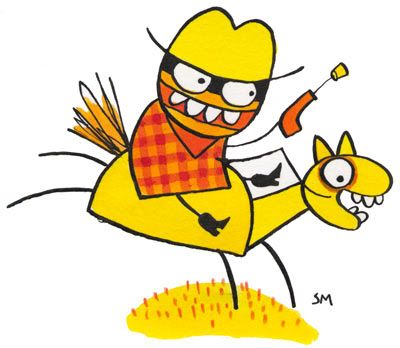 Anyone want to show me their worst drawing of a horse?
(Feel free to post it in the comments!) They are rather fun and therapeutic to draw badly. The worse, the better.
If you're looking for something to do in London or Cambridge this weekend, throw on your most elaborate
cosplay
outfit (I'm linking 'cosplay' cause I bet my mum doesn't know what it means) and come along Saturday to London's
MCM Expo
, where I'll be sharing a table with
Gary
, and we're right next to the DFC's (and Beano's)
Laura Howell
and not far from
David O'Connell
(
tozocomic
). You can buy a copy of
Morris the Mankiest Monster
for a tenner, and I'll throw in a drawing and some sooper-dooper Morris badges.
And on Sunday I'm giving a talk and selling books in Cambridge at the
Women in Comics conference
, maybe see you there!
This morning I set myself the task of drawing a horse VERY BADLY.
Here's Viv in the studio lunch room reading her favourite book from childhood, which mysteriously arrived in the post today, despite the postal strike. (It's
Grover and the Everything in the Whole Wide World Museum.
)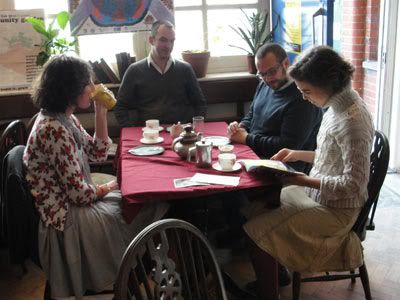 We had
Dave O'Connell
and
Jodie Marsh
around for lunch, and here's our patron saint of cakes, Jaine the cafe owner, showing us her lovely big baps.