Hooray, I just turned in my picture book artwork! Yesterday I went up to Oxford and had two great meetings, one with David Fickling and my editor Hannah Featherstone, and the other at Oxford University Press with the editor and designer who have been working with me on this particular picture book: Helen Mortimer and Molly Dallas.
First, the exciting news from David Fickling:
Morris the Mankiest Monster has almost completely sold out of its first print run!
I think Random House are rather astonished, since the trade in hardback books is kind of slow right now, but they're racing around making sure there will be more books printed up so people can buy it for Christmas gifts - Go go go! :-D Thanks to everyone who's bought copies and is making it a success, yay!!!
Edit: I've sold out of all my copies and I know the warehouse is empty, but I see you can still get some on Amazon.co.uk.
I'm moving on to three more projects with David Fickling, starting with something involving both books and comics and co-created with my fab friend and fellow comics jammer,
David O'Connell
. More about that soon! The other two projects involve
Vern and Lettuce
, which is really exciting because I've really missed that sheep and rabbit.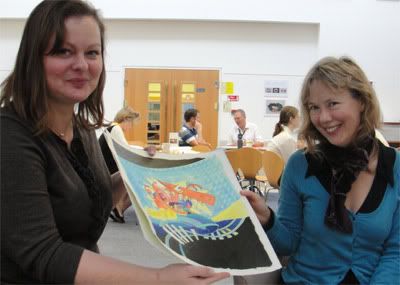 Molly and Helen at Oxford University Press
Moving on to OUP: So I can't say too much about the picture book, it won't come out til next autumn, and I still have to make the covers and do some hand lettering and spot illos, but it's going to be a rollicking great adventure story! Helen said I could give people a peek at one of the pages. I love this page because it's such a great example of collaborative work; I initially was having a hard time getting the look of this book just right, and in particular, really fighting with a drawing of a dinosaur. So I turned around to my studio mate
Gary
and said, 'Hey, can you draw me a dinosaur?' Without missing a beat, he scribbled something onto a post-it note in about five seconds, and whadya know... he nailed it! So I've been calling it 'Derek the Dinosaur', because it totally looks like Gary's sheep:
click to buy Derek!
That was a bit of a turning point in the book, things flowed much better after painting that page.
Woodrow
and
Viv
have also given me some great pointers and book loans and I'm so grateful because, at the end, it's not about how much I've done, but how good the book is. And it's way better for having really talented people around during its creation process.
Thanks, Woodrow, Gary, Viv, Helen and Molly!
Edit:
Don't miss today's radio interview with Viviane and me!
5pm on Resonance 104.4 FM, streamed at www.resonancefm.com and podcast soon after at Panel Borders
:
Alex Fitch sums it up:
Strip! - Banal Pigs and Constabulary Sheep
Concluding this month's series of shows on 'collectives and anthologies', we're looking at two very different animal themed collectives. In an interview recorded at this year's Small Press Expo in Bristol, Dickon Harris talks to Steve Tillotson and Gareth Brookes about their self published comics, including
The Manly Boys Annual, Can I borrow your toilet
and
The Banal Pig Landscape
anthology; while in an interview recorded in the Old Police Station, Deptford, Alex Fitch talks to Sarah McIntyre and Viviane Schwartz, who illustrate books for children and share a studio with Beano artist Gary Northfield that they affectionately call The Fleece Station...