Lots of good wishes to the best dad ever!!! My dad just got a cake recently, but not for his birthday. It was because he'd spent something like a hundred hours helping my sister recondition the old sign for
the Streamline Tavern
, the dive bar my sister, her partner Mike and two friends just bought and are fixing up, near the Space Needle in Seattle. Dad's put so much time into helping her out that everyone at the bar calls him Superdad and he's been guaranteed free drinks for life. He's a happy guy.
Here's a gorgeous picture of my dad and sister, taken by
beatnikside
. (Thanks for letting me post it!)
My dad says my sister lowered this sign from the roof by tying a rope around her waist and belaying it down; it must've weighed 300 pounds, my sister is as strong as an ox. Dad figured out an entirely new way to light it that was much more energy efficient and had the same look. Here's the sign and the cake celebrating the relighting of the sign.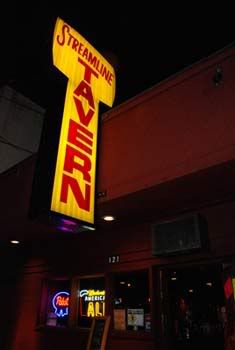 (Also taken by
beatnikside)
I so wish I could've been there! There are not many down sides to living in London, but not being near my dad is one of them. I asked him last night if I could do an interview of him for my blog sometime and he agreed, so keep an eye out for that, Dad's a fascinating guy. I hope you have a great birthday, Dad! xoxoxo