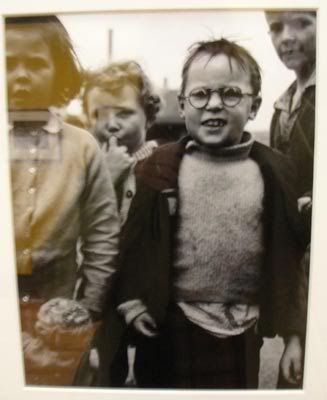 My auntie took Stuart and me to the newly renovated
Kelvingrove Art Gallery and Museum
and I made a couple drawings based on some of the pictures. I love the face on this kid, from a series of photos taken by
Joseph McKenzie
of kids in Glasgow's
Gorbals
. But darn, he was hard to draw! He kept looking like an old man, which is part of his charm, really, but he shouldn't
actually
look like an old man. I finally ended up thinking, what would
Gary
do, and drew him that way, which seemed to work the best.
This one isn't spot on either, but I loved the gormless expression and composition of this painting by painter and optical repairman
John Quinton Pringle
, one of the
Glasgow Boys
. The gallery was displaying a large collection of work by the Glasgow Boys, which will be on exhibition at the Royal Academy next year (when you'll have to pay a whopping fee to get in. See 'em for free in Glasgow!).
(
Collapse
)