Yesterday I went up to
Bishop's Stortford
for their first Children's Book Festival and accepted the
Picture Book Award
for
Morris the Mankiest Monster
from Britain's
Children's Laureate
and children's book creator
Anthony Browne
. Hurrah!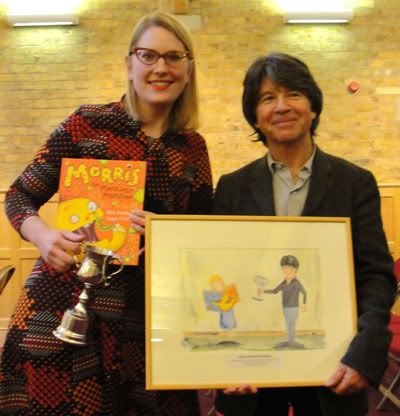 One of the teachers had even painted a great picture of Anthony giving me the prize. (It made us laugh, because it looked so much like us, but also because Anthony looks very tall in it.) The hall had kids there from loads of schools, all whom had voted for their favourite picture book, so it was an amazing honour to win. (Thanks, guys!!) I didn't actually know our book had won until two seconds before I gave a short speech, so I was a little flustered, but also very happy.
Anthony gave a talk, saying how important it was for people of all ages to embrace picture books, and stressed the importance of building visual literacy in our culture. One of the cool things about the award was that the oldest children in the school also took part in the competition, analysing the picture books and looking at them from a design and editorial perspective, thinking about what they'd do if they were creating their own picture books.
Anthony had been doing events for the festival since the day before, and was busily signing books for a long queue of schoolchildren, so I did a quick drawing of him. And here's a photo of the very funny cat play some of the kids put on for us.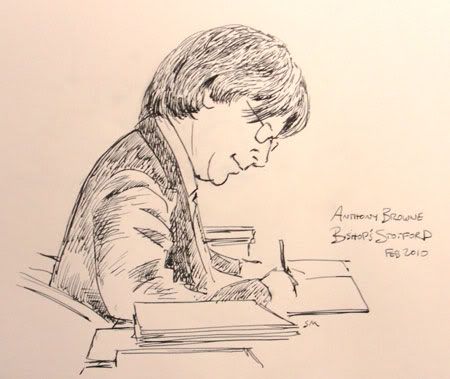 (
Collapse
)