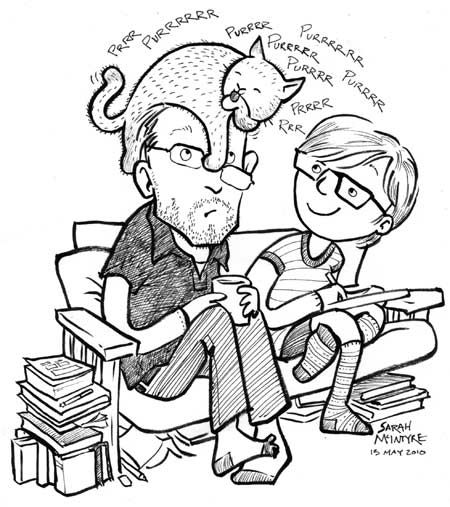 This one's for John Horstman (
lividpedro
) and comics artist
Lucy Knisley
(
lucylou
), whom I met for the first time last year when they were visiting London. (But I haven't met Linney the cat.) Happy 30th birthday, John!
And have you seen
Jamie Smart's new website
? It's amazing!!! Loads of comics and fab thing to look at. And he's also running a
Chaffy Art Contest
. Do you think you can draw a little white ball of fluff with two unmatching ears? You know you can...
The other thing going on is
Garen Ewing
(
rainboworchid
) is interviewing the people on the publishing team who are making his
The Rainbow Orchid
series happen. (One of them mentioned
The Phantom Tollbooth
as a favourite book, which I also think is fabulous.)