Last week I met up with comics creator
Darryl Cunningham
(
tallguywrites
, author of
Psychiatric Tales
) to see
Magnificent Maps
at the British Library. (Note:
I'm interviewing Darryl at Caption in August!
)
You can't beat the British LIbrary for good collections, and this exhibition had loads of amazing loot on display. I went to another exhibition of maps there, maybe five years ago, and I seem to remember it being a bit more bizarre, in a good way, but this exhibition was lush, with the most amazingly complex handmade maps you can imagine. Since making even the most detailed map is still a process of elimination (you'd have to recreate the 3-D world not to lose anything), it tells us so much about the priorities and prejudices of their makers. And the entrance hall looked lovely, it always makes me happy, the way they manage to resemble the whole place for a show:
I had a great time examining
Grayson Perry
's map of his own psyche, overlaid on a map of his body, crafted with a traditional printmaking technique. I also saw a fab coffee table book about his work in the giftshop,
Grayson Perry by Jackie Klein
and counted the days til my birthday. I really need to explore that guy's work more, I love the way he uses such traditional ways of working to say such up-to-date things.
(Note to self, put him with Paula Rego and Alain Grée as people I want to find out more about.)
Darryl's another person who has a great appreciation for this printmaking aesthetic. As I looked at some of the maps with houses all pushed together, it reminded me very much of the way he draws buildings. Here's an example of Darryl's work, which will give you a taster for what you'll see at the British Library: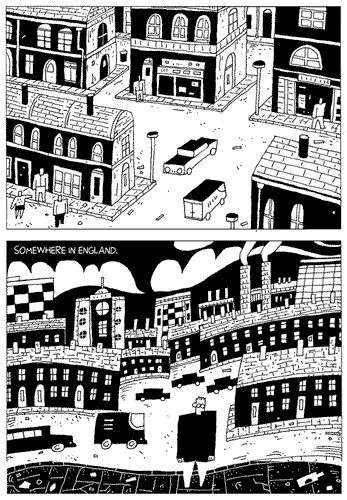 (
Collapse
)