Last week I went to the Random House Children's Book Christmas Party, and it's always an exciting shock to see so many amazing creators gathered in one place. (
The first year I went, I got a bit overwhelmed.
) I only remembered my camera about five minutes before we all headed off to the pub, but I managed a few random snaps. Well, this one wasn't random; I really wanted to get a photo of fab comics buddy
Neill Cameron
(creator of
Mo-Bot High
) and our superhero
Posy Simmonds
.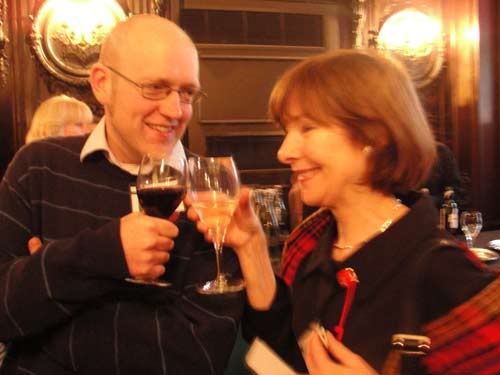 Neill Cameron & Posy Simmonds
Posy said she'd read my
Vern and Lettuce
and enjoyed it very much, which sent me running around with an idiotic grin on my face for the next hour.
Edit: Hey, I just found out Posy's speaking at the next Laydeez Do Comics event, just off Brick Lane in London on Mon, 13 Dec! Details here.
(
Collapse
)