Last night I drew Stuart, sitting reading on the sofa, this time in profile. I'm fussing over him quite a bit at the moment because he's felt awfully neglected for the past couple months, when events have meant I haven't had a single weekend at home. During the day, we took a walk along the river to Greenwich Market, which was twinkly and bustling in the run up to Christmas.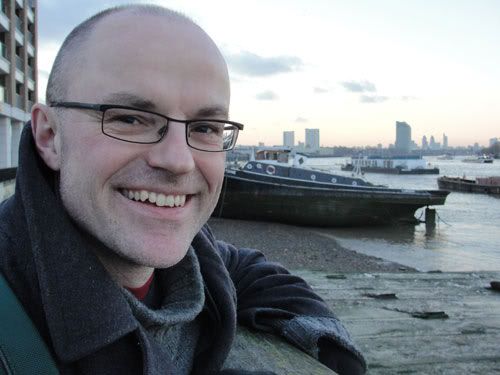 On Saturday, my studio mate
Ellen Lindner
celebrated her birthday with a Midwinter Hawaiian
Luau
. Which made for some amusing combinations as people traipsed in from the snow in their thermal leggings and grass skirts.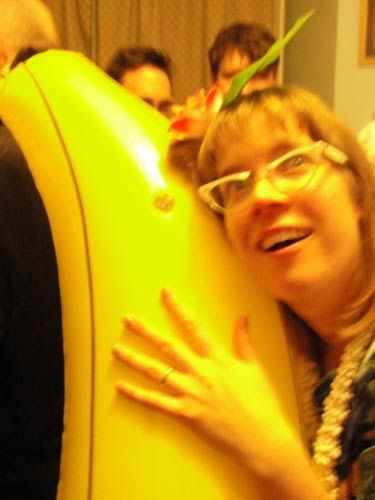 Birthday girl Ellen Lindner & giant banana
The last time I went to a winter luau was 13 years ago, in Moscow, the day before I risked everything to tell Stuart I fancied him.
The temperature had been a steady -20C, and my friend Georgia Jansson and I took the Metro out to some obscure market I'd never heard of, where Georgia knew we could buy all sorts of exotic fruit. So we haggled with the fruit vendors, picked up a Beach Boys album from the
Gorbushka
(a dodgy outdoor CD mart, which name literally means 'heel of the bread loaf') and headed to her place to go wildly tropical. I couldn't find a Hawaiian shirt, but my Russian landlady let me borrow a eyeball-searingly bright Nehru jacket she'd somehow managed to get hold of during the Brezhnev era.
Gary Northfield and hipster pineapple
(
Collapse
)