After way too much sitting in the studio this week, I was bouncing off the walls and needing to get out. Stuart had a bee in his bonnet to visit the
Excalibur prefab estate
in
Catford
, so we jumped on our bicycles and headed over there. He'd read a couple articles, one by
Simon Jenkins in The Guardian
and the other in
Lewisham Life
about the community,
Britain's largest surviving 1940's prefab estate
, which is under threat of demolition by the council.
Prefabricated houses
were a quick-fix housing solution after WW2, and were only intended to last ten years or so, but after 60 years, some residents have grown very attached to them.
As we were looping about the maze of streets and taking photos, we were lucky enough to get chatting with a guy who was taking down his Christmas decorations,
Jim Blackender
. Jim's become a neighbourhood champion to save Excalibur, and he let me video him talking about it. Here's the interview and a slide show of some of the photos I took today in this historic area:
Excalibur Prefabs YouTube link
You can find out about the
community's campaign on Jim's website here
.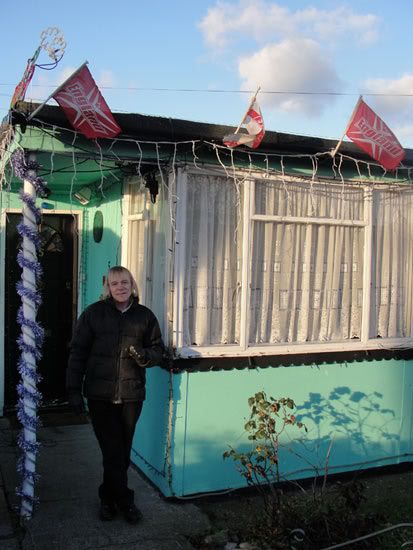 Jim Blackender and his prefab
(
Collapse
)