On Saturday, a whole lot of vision and backbreaking labour paid off... Just Imagine went LIVE! Chelmsford now has one of Britain's best children's bookshops, but even more than that, plenty of space for loads of workshops, storytelling sessions, puppetry, dress-up theatre, animation, music, crafts and more.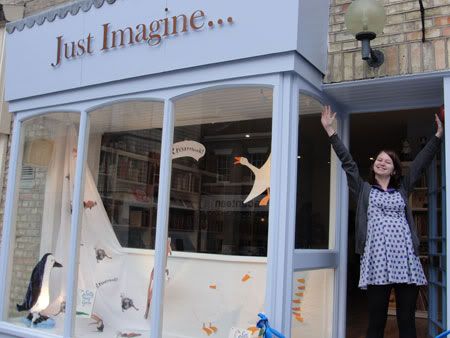 64 - 68 New London Road, Chelsford, Essex, England; excited Just Imagine team member Georgia Snelgrove
The writer
Steve Cole
and I were very proud that the project's head, Nikki Gamble from
Write Away
, asked us to help her launch Just Imagine, and we led our Make-a-Monster Mega-Challenge, which was fabulous fun, despite being absolutely mobbed!
Steve Cole with Dr Who monsters (among his zillion books, Steve has written Dr Who novel adaptations, comics and plays)
Our monster workshop, photo by Stassia, window-dresser and workshop assistant
I've done lots of monster-making sessions, but it was Steve's idea to have kids make a Top Trumps-style card to go with it, ranking their powers and getting people to write a monster name and description. And the visitors came up with amazing beasts! Nikki's going to turn them into vinyl artwork for Just Imagine's stairwell, and I know they'll look fabulous.
I had several people, including a librarian, ask if they could have copies of the sheet, to lead their own Monster Mega-Challenges, so
here's a PDF file, if you'd like to download a copy
!
DOWNLOAD HERE - monsterfile.pdf
(
Collapse
)