Last night I went along to Brick Lane for the monthly meeting of
Laydeez Do Comics
. I went partly to hear the talks, but partly to see my friend
Darryl Cunningham
, who lives way up in Keighley in Yorkshire, so any visit to London is a big deal.
Bloomsbury in the USA had just sent him some author copies of the American version of his book
Psychiatric Tales
, which comes out next month (but is already unofficially hitting the shelves), and he gave me a copy! And then I was super chuffed to find my name in it! Yay! Thanks, Darryl!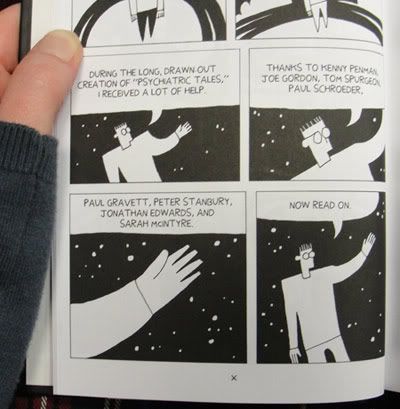 New introduction to the American edition of Psychiatric Tales
I did a few rough doodles in my notebook during the talks: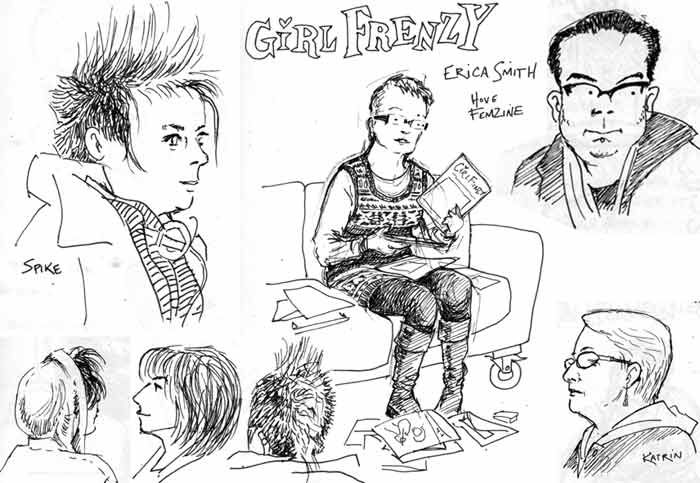 The presentations covered a lot of ground in comics and social history, but I'll post a few links the speakers mentioned.
Corinne Pearlman
flagged
Myriad Editions'
First Graphic Novel Competition
, a chance to publish a book with them, with a £10 entry fee and final date of 1 Oct 2011.
Ed Hillyer (aka Ilya)
talked about being sent to Indonesia by the British Council to meet with other comic artists and come up with a app-friendly comic based on a deteriorating painted mural at the Jakarta History Museum. (You can see some
British Council Flickr photos here
.)
Dr Julia Round promoted the
Studies in Comics Journal
and encouraged people to submit comics and academic paper to its future publications.
And my favourite bit was when the lights went on, the Powerpoint went off, and
Erica Smith
, creator and editor of
Girl Frenzy
got out her collection of old comics and zines:
(
Collapse
)