February 16th, 2011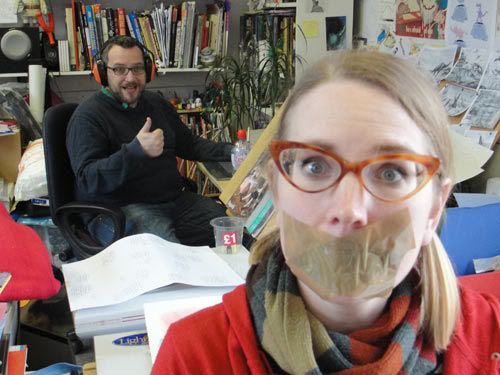 My picture book's nowhere near done yet, and I just had a very late night at the studio working on it. The dark was pressing in hard at the windows and I took a few minutes' break to sing a song to cheer myself up. I can't sing for toffee at the best of times, and here's how I sing when I'm tired. I'll probably see this in the morning and think, What? Why did I post that?! But, hey, it's here for now.
...Hello, you, if you're up late, too.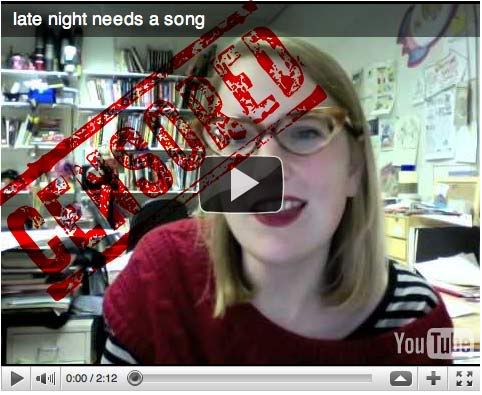 After last night's musical indiscretion (video now disabled), my studio mates intervened and order was restored to the Fleece Station.
The Fleece Station
studio, and times have never been as exciting as now, when
our fab studio mate, Ms Deadlyknitshade, has her first book coming out!
If you're new to my blog,
Lauren O'Farrell
is the world's most incredible pirate knitter; she and her huge band of yarnstormers create amazing knitted graffiti installations all around the city. The latest was for Valentine's Day, when, by stealth, they decorated the Eros statue on Piccadilly Circus (
see the photos here!
) Now you may think it's easy hanging a string of knitted hearts from the figure's bow, but Lauren managed to find the longest telescopic pole imaginable to do it (which we had great fun playing with at the studio when it arrived in the post), and a huge crowd gathered and cheered wildly when the yarnstormers managed to loop the yarn over the statue.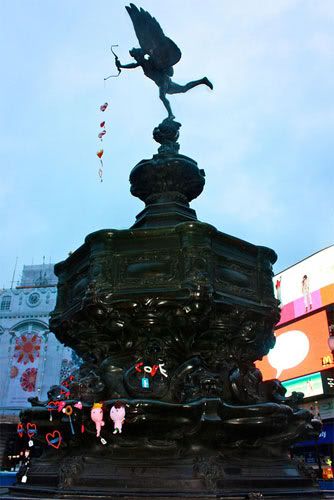 Here's the giant squid she knit out of recycled Sainsbury's carrier bags for London's Natural History Museum. Its name is Plarchie - a combo of Plarn (plastic yarn) and Archie (the museum's original squid specimen) - and it's draped languorously over Darwin's lap. (Here's
Lauren's blog post about the project
and
my post about the Stitch-a-Squid session
at the museum.)
And here's Lauren in our studio with her very first copy of the book... TA DAH!!! Isn't it lovely? It's in German, by the way! Lauren did all the writing (in English) and took all the photos.
Have a look at Lauren's amazing blog,
Whodunnkit
, to see photos of her amazing yarnstorming projects. And don't miss the
Knit the City
to find out about past and upcoming events! And if you love knitting or want to learn, sign up for the mailing list from the
Stitch London website
. The German book,
Knit the City: Maschenhaft Seltsames
, launches in Berlin on Sat, 5 March (
details here
).
Edit:
Here's today's deadlyknitshade feature on Boing Boing!
(
Lots more blog under the cut
Collapse
)
This year's been an incredible one at