March 14th, 2011
Small Press and Comics Expo
, but I'm on my book's final deadline homestretch today, so I think I'd better hold off on that for a bit. Just thought I'd put up one picture at the
Fleece Station
table, with the fabulous
Bridgeen Gillespie
, who'd come all the way from Ireland.
Whenever I heard Bridgeen Gillespie's name, I always think of the
Gallivespians
in Philip Pullman's
His Dark Materials
trilogy. Here's their description on Wikipedia:
Gallivespians are a humanoid race from yet another universe that appear in the third volume of the trilogy. They are small in size, no higher than the width of a man's hand. As a defence to make up for their size, they have spurs on the backs of their heels which can deliver a poison that will kill at worst, and paralyse and cause intense pain at best. This poison must be given time to build up to full potency, and so cannot be used over-frequently.
(
more here
)
I'll blog more photos soon from this weekend's excellent
Sam Reeve
(who's nearly eight), which arrived this morning.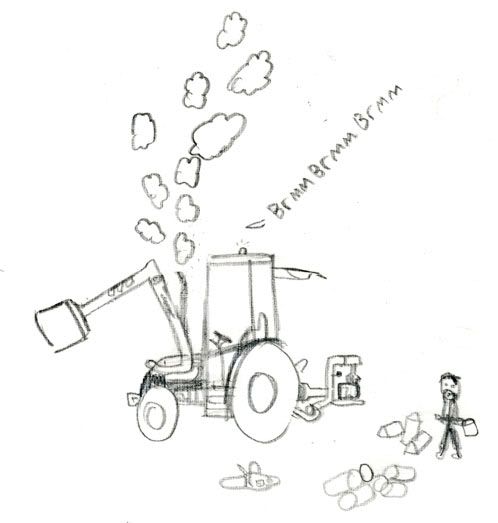 His dad wrote:
I told Sam how hard you were working, and he thinks what you need is a picture of a tractor, so he drew you one: it's Steve Arrowsmith Brown's, splitting logs.
And it's true, a tractor was just what I needed! Look at the detail on this one, Sam drew it from memory. You can see another one of his fab
tractor drawings here
. Thanks, Sam!
And thanks,
Dan Fone
, for recommending what's my new working music album of choice,
How Strange, Innocence
by Explosions in the Sky. (I've been listening to it on
Spotify
.)
Alex Milway
recommends the
Parades
album by Efterklang, particularly the song
Cutting Ice to Snow
, which sounds like it would fit nicely into one of his yeti books.
I've been a bit stressed out lately with deadlines (the most pressing being my picture book artwork for this spring's Bologna book fair, a deadline which is... tomorrow!). But people have been very kind. Here's a picture from