I've been intending for more than a week to blog these photos from the
London Comic & Small Press Expo
, which was fabulous! The exhibition hall at Goldsmith's University was gorgeous with its enormous domed ceiling and pipe organ, and it was super-handy being ten minutes' walk from my house and the studio. (I forgot something and had time to run home and get it!) Here's a photo of three of our four
Fleece Station
officers at our table.
Hey, news flash! Ellen Lindner, Cliodhna Lyons and I will be sharing a table next month at comics festivals in the USA! If you're in the States, come buy stuff from us that you can usually only get in Britain at MoCCA in New York City (9-10 April) and Stumptown in Portland, Oregon (16-17 April)!
I'll definitely have copies of my book
Vern and Lettuce
, my mini comic
Airship
with
David O'Connell
, the
Birdsong anthology
and some prints. (Possibly more, if I can get my act together amidst all this picture book, comics and
Monsterville
work.)
Fleece Officers Sarah McIntyre, Gary Northfield, Ellen Lindner
Illustrator El Ashfield at our table
My Birdsong editors Will Kirkby & Naniiebim. We're currently working on Issue 2!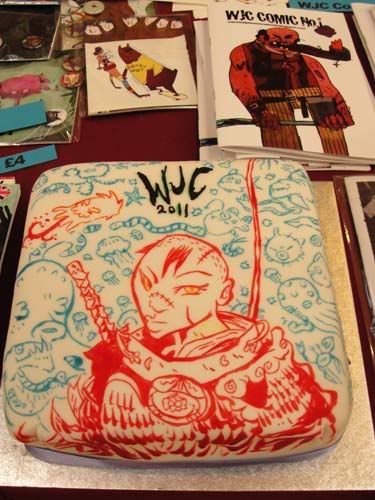 Fabulous birthday cake Will & Lou made for Warwick. Edible ink! Cake was very tasty.
(
Collapse
)