March 23rd, 2011
Fleece Station
founder
Viviane Schwarz
for being one of ten people to win
Booktrust's Best New Illustrator award
last night! You can read the full list of winners and read about them on the
Booktrust website here
. Thanks to John Huddy at the
Illustration Cupboard
for hosting the sparkling evening.
Polly Dunbar, Alexis Deacon, Viviane Schwarz, Emily Gravett, Anthony Browne
You can see a bunch of their illustrations and hear Children's Laureate Anthony Browne talk about the award over on the
Guardian website
.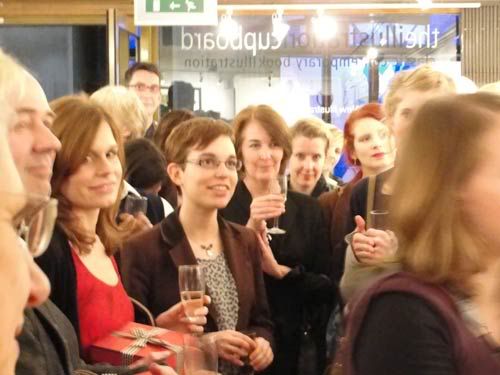 Lauren Child (right) with another illustrator (can anyone remind me of her name?)
Ros Hickinson (first violinist for the English National Ballet who rushed in between performances of Swan Lake), Axel Sheffler, Axel's friend Nils
(
More pics under the cut!
Collapse
)
A huge congratulation to fab friend and
Following the
last post about the Booktrust Best New Illustrator
award night,
Viviane Schwarz
,
Joe Berger
and
Anthony Browne
were on BBC breakfast telly this morning!
You can watch it here!
(Although I'm not sure for how long, and if it's available internationally).
I only recently realised that not only did I sit next to Joe Berger at the Bishop's Stortford Picture Book Award ceremony, but he's the guy who makes
Berger & Wyse
, with
Pascal Wyse
for
The Guardian
! And funnily enough, I have one of his cartoons taped up on the side of my bookshelf, a foot away from where I sit at my computer, so I see it a lot.
(
Click here for two more pics under the cut
Collapse
)