March 28th, 2011
Polly Dunbar's game of Consequences
has finished, and you can read her post about it over on the
Booktrust website
and click through to the gallery. Here's the final tattered and bedecked envelope: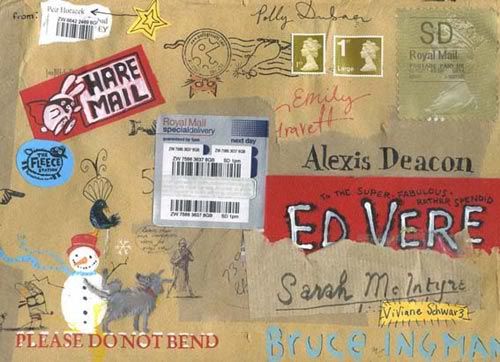 Here are some twitterings about weekly tea and cake sessions (including a cake that kills knives) over on the
Fleece Station blog
. (I still haven't quite worked out Wordpress's spacing between words and pictures.)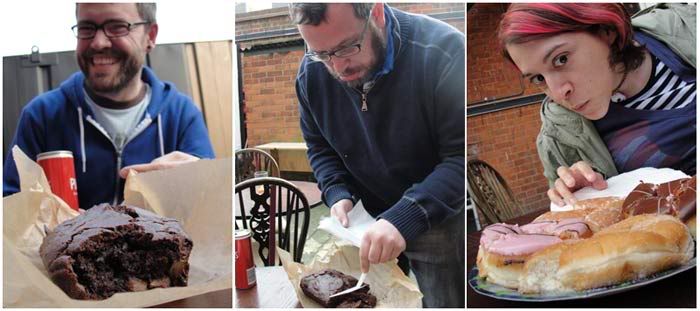 And, gosh, the
Oxford lit fest
is coming up soon! Really looking forward to running my second-ever
When Titus Took the Train
workshop and also going along to my friends' event at noon,
Candy Gourlay
and
Philip Reeve
, with
Lauren St John
, who have all been nominated for the Blue Peter book prize. Don't know if there are any tickets left for either event, but you can find out here on the
Oxford lit fest website
.
Sun, 4 April, 4pm at Christ Church college, Junior Common Room
Hurrah!
Monsterville
at Stratford's Discover centre. Right now I'm adding colour to the diagrammes for the building exteriors. These aren't supposed to be illustrations, just colour indications so the set designers know how to paint things. The solid-blue items in the window display will be vinyl cutouts stuck onto the windowpanes. As jobs go, this one is SERIOUSLY FUN.
If you
click here
, you can see earlier posts with sketches and photos of
Neal Layton, Ed Vere
and me monstering away. The village will be open from the launch on 28 May until March next year.
Here's the earlier sketch; you can see how it had to change a bit to suit the shape of the village street and the size of the visiting children.
I'm sort of going for a souped-up version of the shops in an old book by Eric Ravilious called
High Street
and the kind of places you'd see on
Jermyn Street
, just behind Piccadilly, with all its fabulous foppish men's shops. There's also quite a bit of
Vern and Lettuce
's
Saville Row
page going on there.

Don't miss the
great online book
that writer and illustrator
Polly Dunbar
created for her last post as Booktrust blogger-in-residence. So much work in that! But she has left us with a lovely book and a great resource for learning about how to put a story together.
Be sure to scroll down below the book for Polly's notes on storytelling! Ideas, character, emotion, location, dilemma... she's included loads of stuff.
Just thought I'd do a quick post to show the work I'm doing for