A monster cake for the front window of Lolliplops sweet shop and ice cream parlour: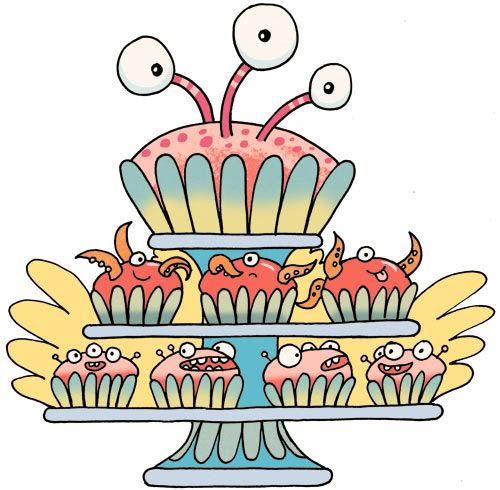 Right now I'm making two kinds of images for
Monsterville
at the Discover centre: the cakes, above, will be printed onto vinyl and stuck onto wood or foamboard, but the sets, below, will be painted by a team of theatre design people, so I'm just giving them a general idea of where everything goes and the colour scheme. I still need to do print versions of a few details, such as the Lolliplops poster and some of the little critters.
I'll do a print-quality version for vinyl of the Wigs & 'Taches advert, it's still in the rough stages. It's a happy little nod to the yetis in
Alex Milway
's
Mythical 9th Division
. The 'Lolliplops' name suggestion came courtesy of
Graham Marks
. Oh man, I love building these monsters' world. Working on a bunch of interior stuff today. And some over-the-top fancy WIGS!
(
Click here for previous Monsterville blog posts.
)