April 5th, 2011
Candy Gourlay
and
Philip Reeve
, who had an event the same day as mine. Philip and I are bookending Candy here to illustrate the theme of her novel,
Tall Story
.
Making things even more fun, it all took place at a super-cool venue, the Great Hall in
Christ Church
college (which you may recognise as the Hogwarts dining hall in the Harry Potter films). I was appalled to discover that Philip had only
just been let out of prison that morning
, but he kept his ankle tag well hidden. (Shocking whom they allow into the festival Green Room these days.)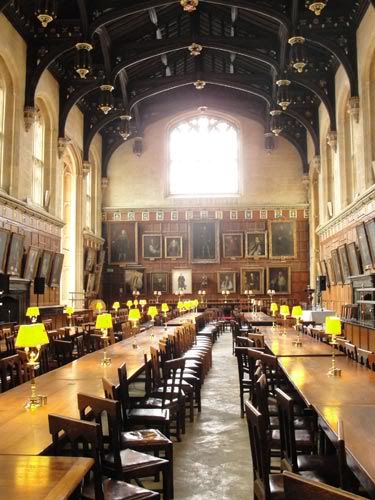 You can take a
panoramic virtual tour of Christ Church here
if you're curious. (Here's a
peek at the actual room
.) My event wasn't until late afternoon, but I caught an early train to go hear Candy and Philip give a talk with the writer
Lauren St John
and
Blue Peter
presenter
Barney Harwood
. Philip read from his book
A Web of Air
, Lauren talked about being almost squeezed to death as a child by her pet boa constrictor named Samantha, and here's Candy talking about volcanoes and giants.
(
Click here for more photos under the cut!
Collapse
)
So Sunday was a fabulous day because I got to hang out at the Oxford Literary Festival with two fab friends
Anne Cottringer
! (If you haven't heard yet, it's called
When Titus Took the Train
.) When Anne and I first met up, we mentioned that we'd always been hankering to try out hand at making a little stop-motion animation. So we did!
YouTube link
It's for the official launch date of the
Titus
paperback, which is supposed to be on Thursday, but actually, you can
already buy copies of it now
. Please
tell everyone
about our little video, we spent waaay too long putting it together! (But it was such a laugh to make.)
Making Titus
- We thought it was okay that our film was low-tech bits of cardboard and string because it matches up with the book: Titus sets off on what seems like it will be a mundane rail journey but as he's writing and drawing little doodles in his journal, suddenly wild adventures start happening, and you're never quite sure what's real and what's coming out of his pencil and his vibrant imagination. So our film starts with me plucking a ukulele that Alex Milway left in our studio. (I don't know how to play ukulele, as you can hear.) And then we push and prod bits of cardboard and paper and pull them around with string.
Anne rode the train from Hereford to my studio in an old police station in Deptford, where we filmed the animation on the top stairway landing. (Best light there, you see, and the studio itself is rather cluttered.) Amusingly, we turned up in almost exactly the same clothes (red top, grey trousers), which must be our Team Titus uniform. (You can read
Anne's version of the events here
.)
(
Click here for loads more photos of the filming under the cut!
Collapse
)
HEY!
You can download a free Titus adventure board game from my website here! And go read Anne Cottringer's write-up about our day of making Titus, the Movie!
I'm so lucky, I got to make a picture book with film director