April 20th, 2011
I took some snapshots of funny photos in my parents' old albums while I was visiting, and here's one from my very first train ride. Our kindergarten class rode from Seattle to Tacoma and back and we got fancy hats. I still remember it fairly well, it was that exciting. (I look hardcore in my denim jacket, the main character from
When Titus Took the Train
would approve.)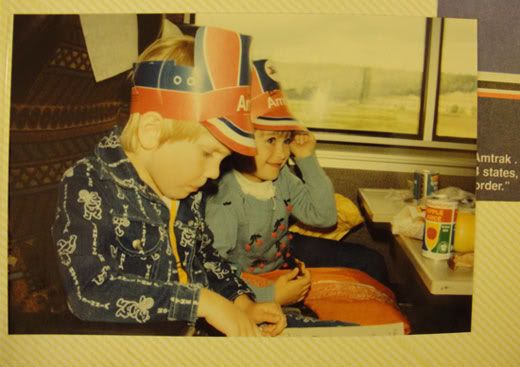 And here's a video made in Portland at
Stumptown comics festival
by Linda Wada (who is, incidentally, a
leading expert on Edna Purviance
, Charlie Chaplin's leading lady.) Thanks so much for this, Linda!
Stumptown YouTube link
While we're at it, here's a rather fabulous song about trains. ...Aw, I love this one.
Arlo Guthrie YouTube link
I'm back! I've ridden in a taxi, Amtrak train, another taxi, car, two airplanes, two Underground trains and a bus since yesterday (was it yesterday? It's 6am in Seattle right now and I am all confused.) I'm too tired to blog about the comics festivals, but I'll leave you with a couple things.