I've finished my drawings for Monsterville, but now the technicians, set painters, sound engineers and printers are working busily to make it all happen! The fab head techie guy,
Paul Callaghan
, just sent through these photos. Here's the basic frame for what will soon be Lolliplops monster ice cream parlour. (
You can see my drawings here in earlier posts - scroll down
.)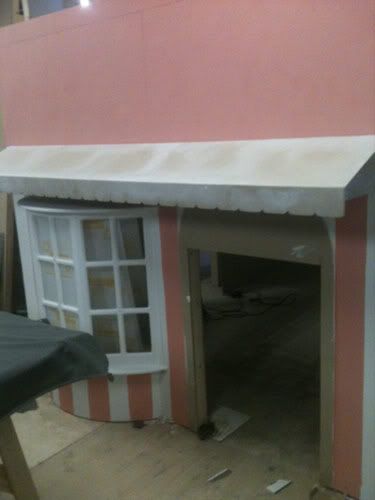 Have you
booked your free tickets yet for the family Monsterville Open Day on 28 May?
Monsterville's proving to be a marvellous collaboration;
Neal Layton
,
Ed Vere
and I have an idea of how the village might look, then the team go out and find the pieces and adapt them. I love this red barber chair they found for the wig fitting shop! And I'm not positive, but I think they might be fitting eyeball push buttons on the old-fashioned cash register. From what I hear, the Monsterville offices are generally awash with eyeballs.
(
Collapse
)