Yesterday I went up to Cambridge to see my lovely editor friend
Bridget Hannigan
, coinciding with the Sci-Fi & Fantasy evening at
Heffers bookshop
that was so jam-packed with top speakers that it might as well be called a festival. You'll probably recognise the creator of this flip-chart drawing without even reading the signature...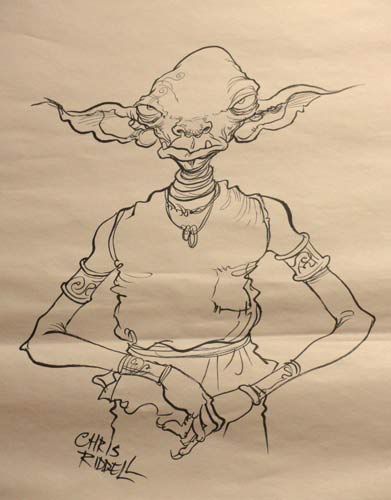 Right before the event, Bridget and I met up in the pub with Cambridge friends (and former DFC colleagues)
Emma Vieceli
and
Dave Shelton
, along with
Philip Reeve
(who had come all the way from
Dartmoor
), Random House publicist
Lisa Hayden
,
Paul Stewart and Chris Riddell
(just in from Brighton... and look, they have a joint website! So cosy...).
Visual treat of the night was writer
China Miéville
's tentacled tatoo...
Here's
Alex Scarrow
on the Patchwork Throne of Glory, just about to set off on a high-energy reading of a chapter set on the sinking Titanic from his time-travelling
Time Riders
thriller
The Doomsday Code
.
(
Collapse
)