Okay, let me just start with the best thing about my first visit to the
Hay Festival
: I got to spend a day hanging out with these fab ladies!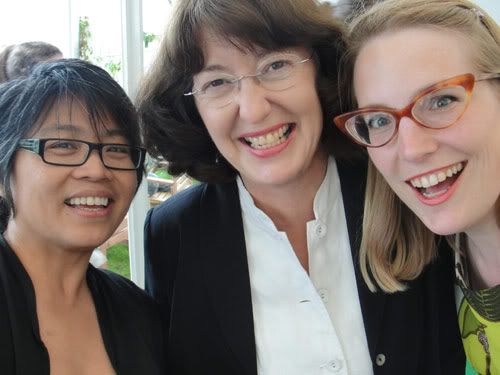 You'll find
Candy Gourlay
all over my blog, and Candy and I both think
Geraldine McCaughrean
is the best writer we know. And she's lovely, we had a good romp in the field that is the massive lit festival at Hay-on-Wye in Wales. Here we are at our event.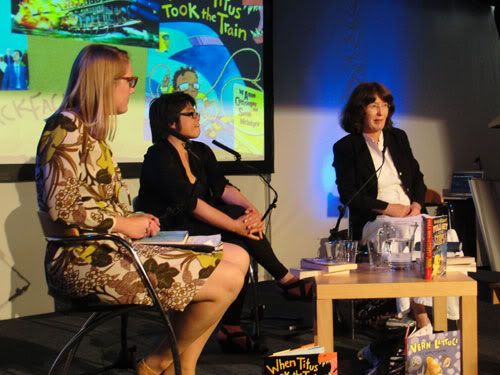 I talk about Candy's
Tall Story in an earlier blog post
, and here's am illustrated review of Geraldine's
Pull Out All the Stops
, which you can read in full over on
Philip Reeve's website
: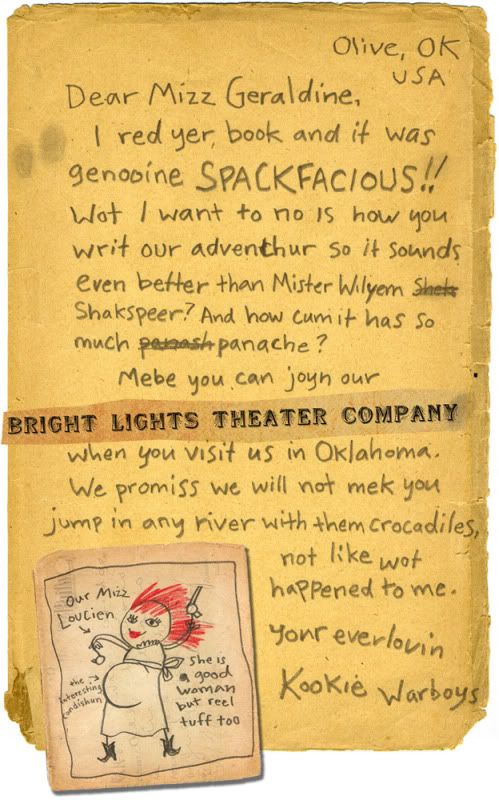 The next day, I was swanning around, doing my monster-aliens-space princess thing on the Starlight Stage...
...when who should I walk right into when I came out of the event?
Why, it's the
Duchess of Cornwall
! Yes, indeedy. We shook hands and talked a bit about aliens and monsters, and then she went away, but popped up again in the Green Room. So here we are just outside in the garden and she has a brand new copy of
Vern and Lettuce
. I introduced her to
Anne Cottringer
, who gave her a copy of our picture book,
When Titus Took the Train
. Stuart is still rolling his eyes in mock horror that I said, 'Hello, you' to the Duchess and signed her book,
To Camilla
, instead of using a formal title or something. Apparently that is not the Done Thing. I hope she likes comics. (Candy says I 'barged past security', but this is not true! It was all very open and easy, just most British people are very shy.)
I'd been curious to meet the writers
Ali Sparkes
and
Andy Stanton
, and I got to see them over lunch, together with
Graham Marks
. In fact, we were having so much fun mucking about that, that two things happened, bad and good. The bad thing: I completely forgot I had a train to catch back to London, and missed my ride....
(
Collapse
)