I thought I'd try to sum up the exciting whirlwind that was
Edinburgh Book Festival
in one picture. I started drawing this on the train ride home but was so overwhelmed, I fell sound asleep somewhere near Berwick-on-Tweed and work up twenty minutes outside of Kings Cross Station. So I inked it at breakfast this morning.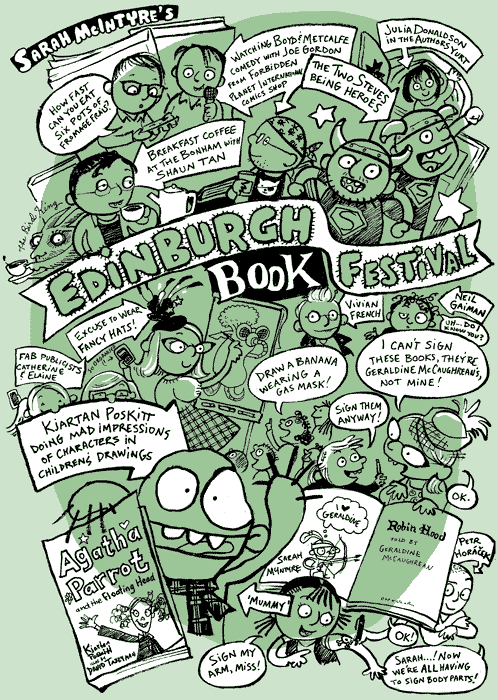 The highlights of the festival were getting to hang out with the fab people from my publishing houses, having morning coffee with Australian writer/illustrator/animator
Shaun Tan
, getting to meet writer/composer/performer
Kjartan Poskitt
, whom you might know as the writer of the Murderous Maths series and who is such a good laugh. Here we are in front of the Authors' Yurt:
Go out and get his book
Agatha Parrot and the Floating Head
, the narrator is a fabulously cheeky girl (based very much on his own experiences with his four cheeky daughters) and the illustrations by
David Tazzyman
are just as funny. If you like Andy Stanton's Mr Gum books (also illustrated by David) and Lauren Child's Clarice Bean books (and even if you don't!), you'll love Agatha Parrot.
(
Collapse
)