September 2nd, 2011
Library Mice has posted a list of my Top Five Comics Crossover Picture Books
. I get really excited about the ever-blurring boundaries between comics and picture books, and here are some of what I see as trailblazers. Go over to the Library Mice book blog and
read what I have to say about them!
Now a little story. Sometimes I get frustrated doing events, that they're taking me away from drawing things for my books. But other times, when I see how the kids (and adults) relate to the books, I think it's when I really discover how the books work and notice which elements get the kids excited, sometimes not the things I would have predicted. And often something special happens that makes it all feel totally worthwhile.

While I was in Leicester a couple weeks ago, I had a bit of time while I was standing in front of the audience, but I hadn't yet been introduced and a few people were still wandering in. So I thought I'd do a warm-up drawing and asked a very small child in front if I could borrow his toy monkey to draw it.

No way! Give up my monkey?

The kid looked terrified.

Oops

, I thought. So I took as close a look at the monkey as I could, doing my best not to look like a monkey-snatcher, and made a little drawing of the monkey for everyone. Later on, I had the kids help me design a character to drive the train I was drawing, and they wanted me to draw the monkey again. The little kid with the monkey held it close, still looking very wary. I could see it in his eyes:

That lady's going to steal my monkey, I just know it.

Toward the end, he got downright teary, and I thought, oh dear, this kid has not enjoyed himself one bit. So I gave his mother the drawing of the monkey and thought,

okay, next time, don't try to borrow anyone's toys. Especially if they are very young.

Lesson learned.

But that evening, I got the most lovely e-mail from his mother:

I just wanted to send you a note to say a huge thank you

:x lovestruck

for the event you held at Leicester central library today. My son Archie was the little boy with the monkey you drew as part of your story. He was absolutely thrilled with the whole event and we'll both remember it for a long time. We came because Morris the Mankiest Monster is his absolute favourite book, and we came away with so much more. We will certainly be going out to buy more of your animated masterpieces.
Thank you also for letting us take home the fab picture you drew of Monkey, which will now have pride of place in Archie's room for many years to come.

I asked her for permission to post it here on my blog, and a week later she wrote back:

Of course not, it would be our pleasure. He's still telling everyone 'lady drew monkey'!
Aw... *blushes happily* So here's a little drawing for Archie, with Monkey and my favourite pirate from my latest book,
You Can't Scare a Princess
. Archie, you can colour it in if you like (and anyone else who fancies a go at it. Click on the image for a larger version.) And, of course, there's a lot more to colour, cut and paste on
my web page for the book, here
.
First thing,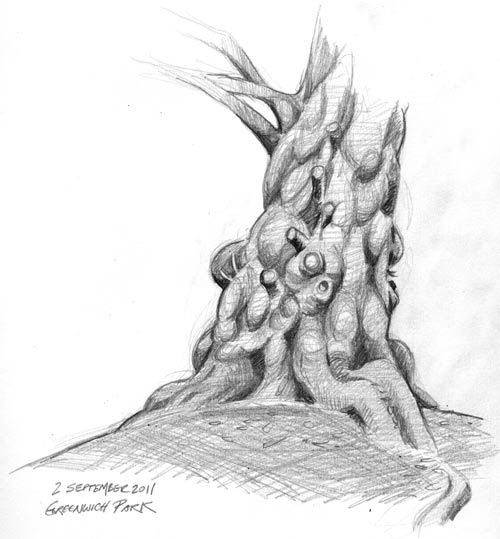 And here's the actual tree and a few of the drawing stages. It had a fence in front and a lake behind, but I decided not to include those.
The heather is all in bloom and the park looks amazing.
And I've done a
big blog post over on The Book Sniffer!
Go on over there for a
behind-the-scenes tour of my new book, You Can't Scare a Princess!
.
I'm also giving a talk about blogging and social networking at
The Bookseller Children's Conference
at the British Library in London on
29 Sept
. Today's the last day to get the Early Bird Special on your ticket, so
head over to their website now!
Here's how they've listed my talk:
Sarah McIntyre, author and illustrator. Looking at how authors can link Facebook, Twitter and web pages to develop their own profile.
Click over to
my own website
to find out more about events I'm doing in the next few months.
Here's this morning's drawing from Greenwich Park. I zoomed in a bit more on the tree than I did yesterday, since the other one was so complicated that it sort of got away from me. This tree is absolutely desperate to grow over the path and keeps being hacked back, you can see all the stubs of cut-off branches. I love how it looks a little bit like an alien or some sort of monster from Doctor Who.