So comics have firmly planted its flag at the august institution that is
The Society of Authors
. They are very comics friendly! Before last night's comics event, I had a committee meeting for my chapter of the SoA, the
Children's Writers & Illustrators Group
, and this fine beardy fellow peered down at us from his gilt frame. I think he might be one of the founders or something, but everyone calls him Philip because he looks so much like that bearded
Ardagh fellow
. Here's the little drawing I made on the meeting agenda.
And here's our lovely comics panel! From left to right it's me, comics creator
Andi Watson
,
Walker Books
commissioning editor
Lizzie Spratt
, creator
John Aggs
, creator
Sally Kindberg
,
The Phoenix Comic
editor
Will Fickling
, creator
Patrice Aggs
and moderator (and all-round comics expert)
Paul Gravett
. I rounded 'em up, with Paul's help and Paul asked the questions. Everyone talked about their own work and the ways they've been pushing boundaries in comics publishing. Loads of people in the audience said they were trying to make and get their own comics published, so I hope the evening was helpful. The event was co-hosted by the
Comica Festival
, so keep an eye on the
Comica website
for loads more excellent events.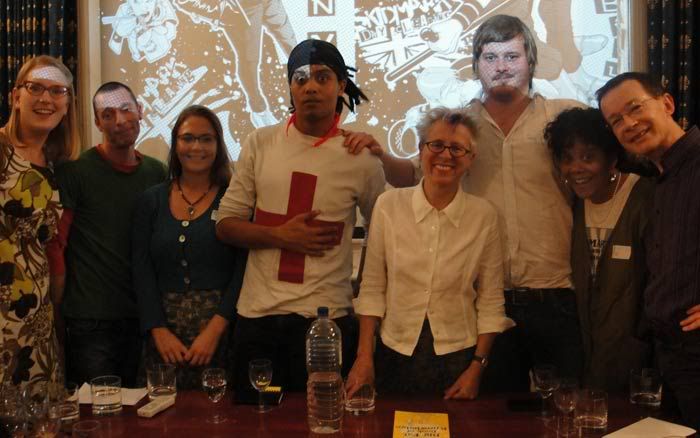 One of the best things about organising this panel was getting to meet two people I'd only heard about. Here's one of them,
Sally Kindberg
, whose comics I haven't really seen in comics circles, the books tend to be more mainstream, but they're so well drawn that comics people shouldn't miss them. Sally's been coming along to
Comica Social Club
, and it's great to have an extremely talented woman on the scene. We're getting more and more of them these days... hello, boys! I actually took this photo when we met each other about a week before the panel, at a talk by Shaun Tan at Waterstone's Piccadilly. Go have a look at
Sally's website
! I'm going to get some of her books and dig into them.
(
Collapse
)
If you're not already, do go follow
Comica Festival
-
@ComicaFestival
- and the
Society of Authors
on Twitter -
@Soc_of_Authors
- where, starting today, they're hosting a
Short Story Tweetathon
, which writer
Ian Rankin
started off today, and which will pull in the likes of
Neil Gaiman
and loads other of your favourites.