Yesterday morning, I put on my best Business Face and went to hear all about the money-making side of creating and selling books at The Bookseller Children's Conference, hosted by the British Library. (What a cool venue, right?) I drew
Caroline Horn
from The Bookseller magazine because she was presenting all the panels, and
Mike Richards
from Egmont just because I couldn't
not
.
We heard a lot about apps and digital formats for books, but I spoke about the more basic, affordable side of the digital world, mostly blogging and fun ways to tackle it. My talk wasn't until 3:30, so I had a good while to get nervous, and I thought I babbled a bit, but everyone seemed very enthusiastic afterward, so, whew, relief. (You can read people's comments over on the
Twitter #kidsconf11 hashtag here
.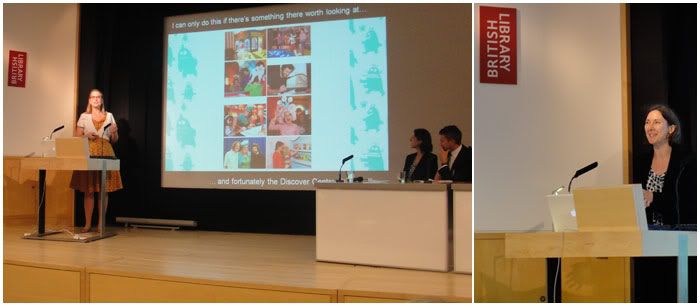 My favourite talk was by a German publisher named
Ralph Mollers
, who broke every rule I know about public speaking but somehow, maybe just by being very German, managed to have us all weeping with laughter. My main conclusions I took from the day were 1,) that quality of storytelling is more important than any digital format - whatever you do and however much money you spend, you have to have a good story for it to work; 2.) for the future of digital stories, we need to have high-quality images or people are going to turn away from it all, and 3.) most British publishers can't afford all this whizzy app and virtual world building stuff anyway, and even the well-financed Americans who are doing it haven't made any money on it yet, but; 4.) we can't afford to ignore new digital advances either.
So after drinks, I got on the train to
Brighton
and went to the Grand Central Pub, just near the station. I missed the kitchen being open but still had a fine plate of chips for dinner. And I gave another talk to the
Brighton Illustrators Group
, about blogging! Then we had a panel discussion, which included (from the left): moderator
Jo Moore
,
Joseph Wilkins
,
Tom Sanderson
,
Ross Breadmore
from
Nixon McInnes
and
Carl Rush
from
Crush Design
. (You can see a couple more pics on
Fred Pipes' Flickr page
.)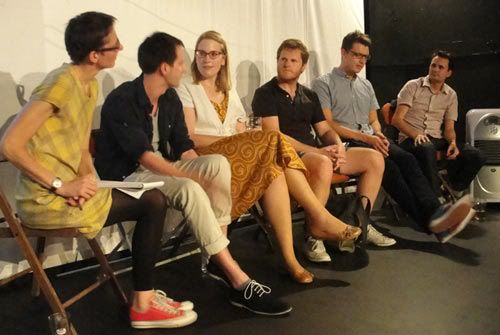 (
Collapse
)