My friend
Alice Brewer
just sent me a picture of her daughter,
Anneli
, in this most excellent Princess Spaghetti costume, for
Children's Book Week
. You look fabulous, Anneli!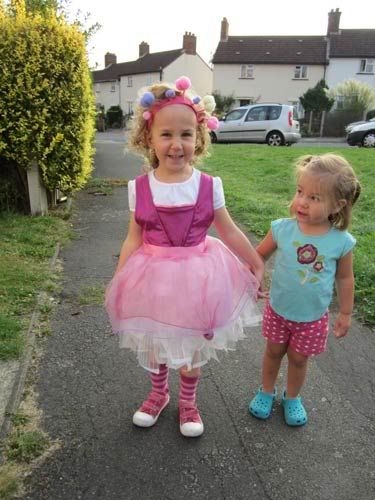 You can find out how to make a Princess Spaghetti tiara and lots of other party ideas and craft fun over on my
You Can't Eat a Princess! webpage
(aliens!) and the
You Can't Scare a Princess! page
(pirates!).
Gosh, it seems just the other day that I was making a baby card for this girl. Her name's a bit unusual, Anneli Bijou, and she's named after Anerley railway station because her parents used to pass it on their commute each day and thought it sounded pretty. Her name turned into a challenge for me, how many anagrams I could get out of it: