October 5th, 2011
Alice Brewer
just sent me a picture of her daughter,
Anneli
, in this most excellent Princess Spaghetti costume, for
Children's Book Week
. You look fabulous, Anneli!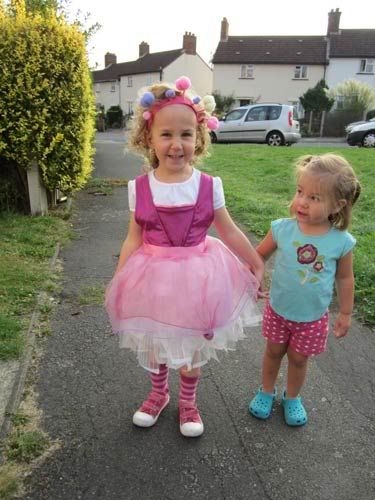 You can find out how to make a Princess Spaghetti tiara and lots of other party ideas and craft fun over on my
You Can't Eat a Princess! webpage
(aliens!) and the
You Can't Scare a Princess! page
(pirates!).
Gosh, it seems just the other day that I was making a baby card for this girl. Her name's a bit unusual, Anneli Bijou, and she's named after Anerley railway station because her parents used to pass it on their commute each day and thought it sounded pretty. Her name turned into a challenge for me, how many anagrams I could get out of it:
My friend
Lauren O'Farrell
on last night's launch of her new book,
Stitch London
! (You might remember she only just launched
Knit the City
... this knitting genius is on a roll!) Most of the partygoers managed to wriggle by Plarchie the squid without being eaten or molested by his long tentacles, but the
Fleece Station
offers its most sincere apologies and sympathy to the friends and families of the non-survivors.
We couldn't stand by their carcasses grieving for too long because there were CUPCAKES. (Such a good distraction in difficult times.) And pigeons! Knitted pigeons.
Find out more about Stitch London over on the website! (And buy a copy, this will make FAB Christmas prezzies.)
(
Click here for lot more photos under the cut!
Collapse
)
A huge congratulations to my most excellent studio mate