Phew, a lot's happened in the past few days. Today I am going to do some
real work
.
To start off, my lovely studio mate,
Lauren O'Farrell
went on from her
Stitch London book
launch to appear on the
Alan Titchmarsh Show
with
Perri Lewis
(my Guardian editor for
Vern and Lettuce
) and
Plarchie the squid
. Look, that's the phone box they graffiti knitted! You can see more pics over on the
Fleece Station blog
and, if you're in the UK,
watch it again on ITV Player
(they're the very first guests).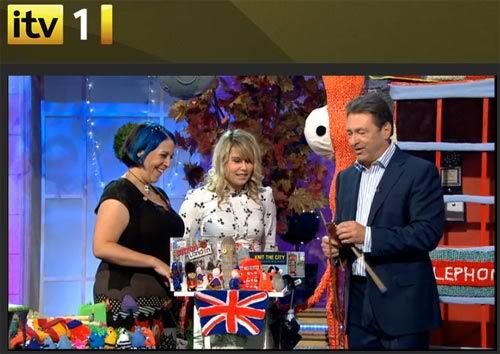 Last night I met up for dinner in Soho with two lovely writers:
Hayley Campbell
(whom you may recognise if you ever shop in
Gosh! London
) and
Audrey Niffenegger
. (You can read my fangirl goings on
in an earlier post here
.)
I first came to Audrey's work through her novels, but she started her career as a visual artist, and I've come to admire her graphic novels, drawings, paintings and prints (mostly etchings), which you can see
on her website
. It's such fun having a good gab with people who love the smell of ink.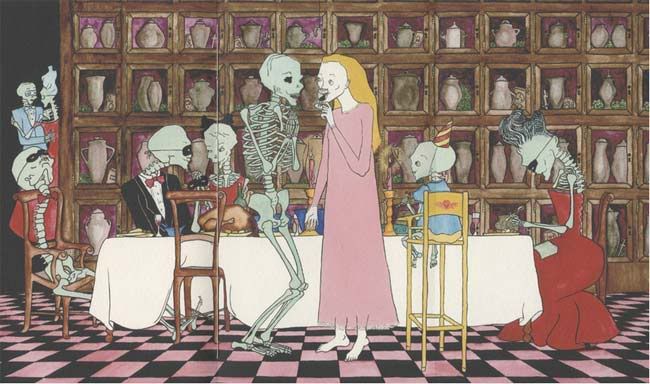 I'm going to be doing a piratey event at the Cheltenham lit fest on Saturday (which was
where i first met Audrey
), which is great, but it means I'm absolutely gutted to be missing her
event that evening at the French Institute in London
. I don't know if there are any tickets left, but if you can get one, GO! She'll be showing work by the magnificent
Aubrey Beardsley
and a lot of her own work that's been influenced by his. If you go and do a blog write-up, please send me a link, I'd love to read about it and link your post. (
Details here.
)
(
Collapse
)