So many of my trips for work the past couple years have started with
this bear
. Whenever I visit him at Paddington station, he asks if I've brought him marmalade, and sometimes I remember. This time I brought him Nutella, which he thought wasn't too bad, although we made the jar look like it hadn't been opened so I could give it to the Reeve family, with whom I was going to stay.
I was going out to Dartmoor to visit the writer and illustrator
Philip Reeve
to work on a couple secret projects we have tucked up our sleeves. I brought all this work to do on the train, but by the time I got to about Bath, I just wanted the train to arrive. My new phone lets me send text messages –
with photos(!)
– so I started texting pictures of a very bored cat.
One of the best parts of the journey is when the train goes right by the sea in Dawlish. I took this using an app called Instagram and thought it looked very artsy-fartsy.
And hurrah, the train finally arrived. The rain was tipping down on the moor, so I didn't do any landscape sketches right away, but I did it the warm kitchen and make drawings of everyone in the family. Here's Sarah, who's a great photographer, surrounded by gadgetry.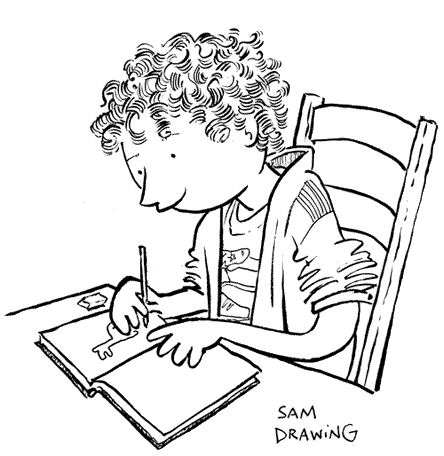 (
Collapse
)