Two costume parties in one day! Here was the first,
Fearfest
, at
Foyles bookshop
on London's Charing Cross Road. I'm posing with a comics reader named
Belle
, in front of the piranha tank. (Yes, real piranhas! And one of them was getting rather chomped on by the rest.) Belle had a cool broomstick and, very gratifyingly, knew my comic
Vern and Lettuce
, back to front. I love it when that happens, she caught all these tiny details I knew most people would miss. (Maybe she'll contribute a page to Vern and Lettuce's online magazine,
The Pickle
.)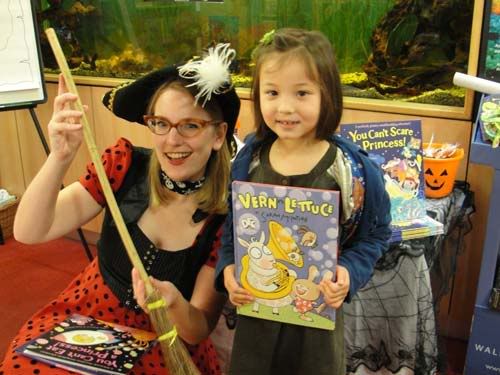 A quick poster of Captain Waffle that I drew for the shop, a be-wigged Children's Marketing and Events Co-ordinator
Neil Jackson
with a be-hatted
Sam
, who both were good fun, and one of the kid's pirates. (You can download a free
Draw a Pirate pack here
.)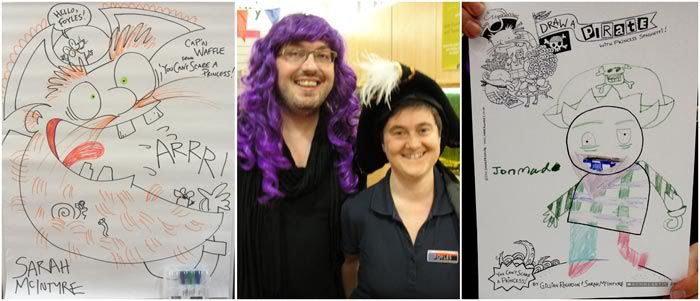 The event had free sweets for the kids, but I partook of them rather extravagantly. The chocolate sweets were the best, but Neil also introduced me to mallow sticks. Thanks, Neil, Sam and the Foyles gang!
Then it was on to the house of my fellow Fleece Officer
Ellen Lindner
and her husband
Stephen Betts
, where all my studio mateys from the
Fleece Station
were costumed up!
Gary Northfield
and
Lauren O'Farrell
had evidentally had a massive row and stuck things through each other's heads. It was all a bit gory.
Look, two villagers from
The Wicker Man
! We love playing that soundtrack in the studio, it's well creepy.
(
Collapse
)