October 31st, 2011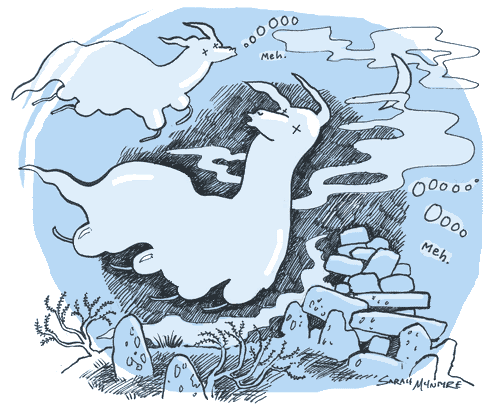 Since I don't live on Dartmoor, I am not privy to frequent encounters with its fearsome alpacas, but there's one writer who is, so you will have to ask
him
about its famous woolly spectres. And perhaps buy his book, an anthology of ghostly tales, including writings by
Mal Peet, Eleanor Updale, Derek Landy, Jamila Gavin
and other fine writers.
Oh! And I have even made a video, which is really cinema at its best, I tell you.
Go have a look, if you dare...
'Twas dark on the moor and as the wind wuthered through the heather, small glowing lights bobbed toward us, making ghostly bleating sounds. For lo, these apparitions rising from the mist could have been nothing other than Devon's PHANTOM ALPACAS. And we were sore afraid. And slightly bemused.
Edit: And here's the Literal Version. Oh, go on, watch that one, too. It's so fab.
I totally heart this song. The fabulous '80s finest hour.