Hurrah! This year's Comiket, part of Comica Festival, was a brilliant success. Three cheers to
Paul Gravett
,
Peter Stanbury
, events co-ordinator
Megan Donnolley
and all the other people who worked so hard to make it happen! Here are fab comic artists
Luke Pearson
and
Sally Kindberg
in the Green Room.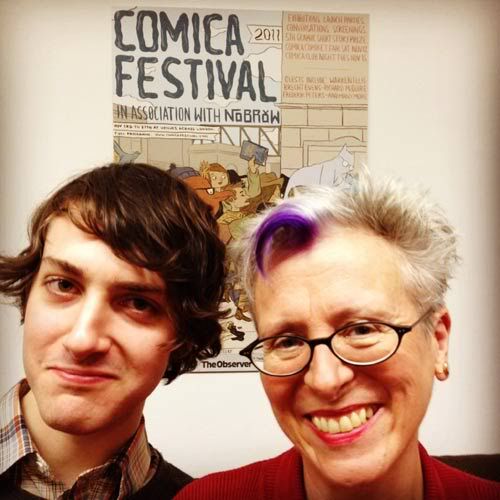 And gosh, it's awfully nerve-wracking drawing a brand-new comic in front of a whole room full of people! I sort of had a think about what I was going to draw on the tube, on the way in, but I was surprised to find out just HOW BIG the screen was! I'd never drawn a comic about Captain Waffle before, he's from my picture book,
You Can't Scare a Princess!
, but I thought it would be funny to have him storm a comics fair and get arrested for buying pirated copies of Tintin.
I wish I'd taken a photo of the page at the end, but I was too flustered to remember. I mostly based myself out of the
DFC Library
table, and Matilda Johnson, the office manager at David Fickling Books, kindly let me sell my mini comic
Please Be Moral Do Not Spit
alongside
Vern and Lettuce
. I noticed
James Turner
's
Super Animal Adventure Squad
was selling very well, which was great to see. It's SUCH a funny book. Here's writer and illustrator
El Ashfield
with her copy of my mini comic.
(
Collapse
)