So much to do before
Thought Bubble
comics festival this weekend! The writer of two of my picture books,
Gillian Rogerson
, lives in Leeds, and we're going to run an all-ages activity table, where you can design wacky pirates, invent new worlds by designing treasure maps or just generally hang out with us and draw comics. I'm trying to make our tables a bit more pirate-themed, so yesterday I printed out this big pirate ship in the studio, from the cover I painted for
You Can't Scare a Princess!
.
Here's a poster I knocked together earlier this evening: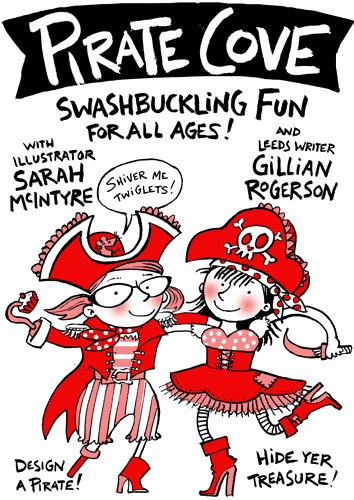 And some cut-out lettering so people will know where they are.
Now for mini comics! Handmade books take so long to put together, and this one is 70 pages long, but I really wanted to show something new that I'd made entirely myself. After I'd drawn and scanned the comics, I put together a cover out of stiff card.
I thought it would be a nice handmade touch to put a Chinese seal at the end of each book, so here they are, spread out on Gary's scanner to dry. (Sorry, Gary.)
(
Collapse
)