Introducing the best of British comics! 54 creators (including me, all my studio mates and loads of former DFC comic colleagues!) have worked like mad and, in less than a year, turned an idea circulated on Twitter into a beautiful book crammed full of amazing comics. The profits all go to Shelter charity for the homeless, so it's an all-round
perfect Christmas prezzie
!
My studio mate Lauren O'Farrell's knitted Nelson at the Cartoon Museum, photo by Dan Fone
The Blank Slate publisher website describes it:
Part exquisite corpse and part relay race, Nelson spans decades of British history and a myriad of stylistic approaches in telling the story of one woman's life by 54 creators, in 54 episodes, detailing 54 days.
I've just written a blog post about it
over on the David Fickling Books blog
... have a peek! Even though the book is
published by Blank Slate
, so many of the creators came together through the DFC comic.
My three pages cover a day in the life of our character, Nel, when she's five years old, living with her family in 1973 Dagenham, east London. It's not a comic for young children. (Kate Brown drew a sex scene! Even though all the dodgy bits are amusingly covered up.) But older teenagers and adults will seeing how so many different talented artists drew the same person, and the carefully edited collaborative story works brilliantly.
So this week is NELSON WEEK and, wow, it's been a busy one! I'm going to do a separate blog posts about Thought Bubble comics festival in Leeds last weekend, where
Nelson
was the talk of the fair, a launch party for an exhibition of original rough drafts of artwork and final art at London's Cartoon Museum, and a stint at Gosh Comics at Berwick Street in Soho, where four of us - Woodrow Phoenix, Will Morris, JAKe and I - spent much of Monday painting Nel on the shopfront window. If you're in London, you can still go to
two more events!
There's a
signing at Forbidden Planet on Shaftesbury Avenue on Thursday
and I'll definitely be at the
Gosh Comics signing on Friday
.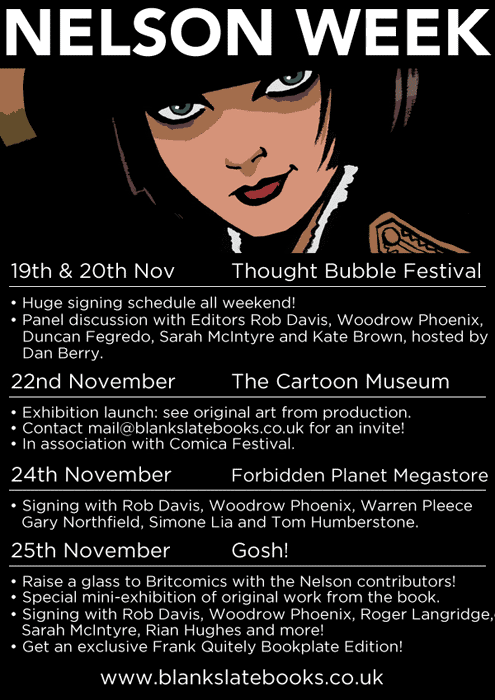 More news and photos soon! Meanwhile, get a hot drink, some cake, and
start reading
!