Wow, can I just say that Leeds Thought Bubble must be one of the best-run festivals on the planet? Such a friendly, buzzing atmosphere, such helpful organisers and logistics team, enthusiastic visitors, an impressive guest list, and tables and tables of AMAZING COMICS!
But of course, the costumes are always the most fun things to blog. Don't these people look fabulous?
I was very impressed to turn around from book sales to see Marie Antoinette designing a pirate at one of our activity tables.
My writer for
You Can't Scare a Princess!
,
Gillian Rogerson
, lives in Leeds, so it was a great chance to meet up with her and run our Pirate Cove drop-in workshop. We weren't actively teaching, but we had lots of pirate sheets and supplies spread out on three big tables with chairs, so anyone of any age could have a sit down and draw pirates or comics or whatever they felt like. If you've ever spent all day walking around a comics fair, you'll know that sometimes you just want to sit down. And you've been seeing all this creative stuff around you, so it's very tempting to pick up pencils and get doodling. You can read
Gillian's blog post about the festival here
and here's our
blog report from last year
, when we ran the alien-themed Space Station.
Here's 8-year-old
Aeryn
, winner of our Best Pirate Competition. Congratulations, Aeryn! I've seldom seen someone her age so focused, she spent well over an hour putting together this colourful pirate princess.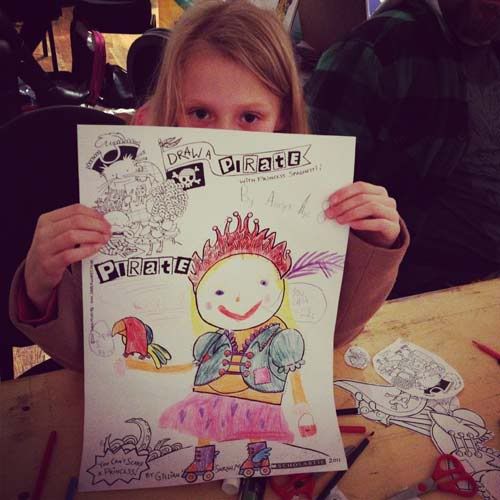 The competition spanned both days of the festival. Here you can see Gillian and her daughter Eve at home, where we came up with a first-day shortlist.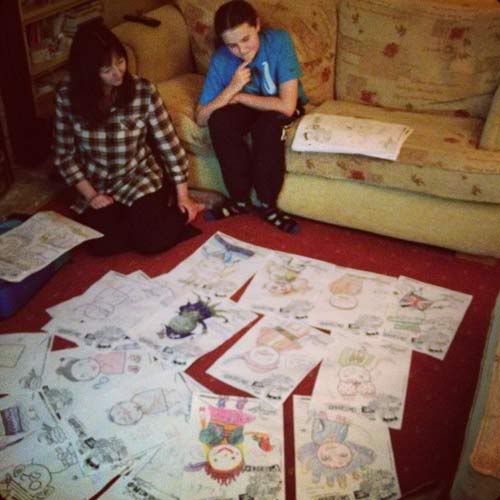 If you missed the festival, or want to draw more pirates, you can
download and print out the activity sheets, free, from my website here
. (I have activity sheets for all the books I've done, so feel free to have a browse. If you're giving someone any of my books for Christmas, you can include the sheets to give them something fun to do on Christmas and Boxing Day.)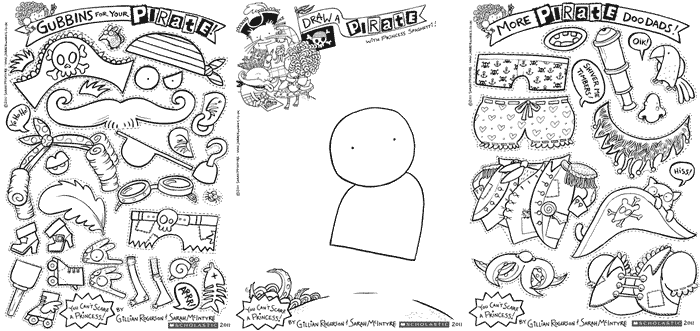 (
Collapse
)