I love doing collaborative artwork because we never know exactly what we'll get at the end. Here's a simple game called Consequences: fold a paper into three parts, have someone draw a monster's head and just indicate at the fold with two marks where the neck goes, then fold it over; the next person draws the middle bit without looking at the head, and the third person takes the bottom bit, again without looking. Ta-dah! Surprise monster. Here's one
Jonathan Edwards (aka Jontofski)
,
Warwick Johnson Cadwell
and I drew at the
Nelson
party at Gosh! comic shop last Friday:
You can
see more monsters on Gosh's blog
, and also find out about
a page of original Nelson artwork I've put up for sale
, all proceeds to Shelter charity (and lots by other contributors, too!).
On Sunday, my friend (and website designer)
Dan Fone
invited a bunch of us to the House Cafe in Camberwell to come and make a spoof magazine with him. We spent much of the afternoon flipping through magazines, laughing at stupid headlines and finally cutting them up and making our own mash-up pages. I think Dan is going to turn them into an online readable magazine, but in the meantime, you can see some of our pages.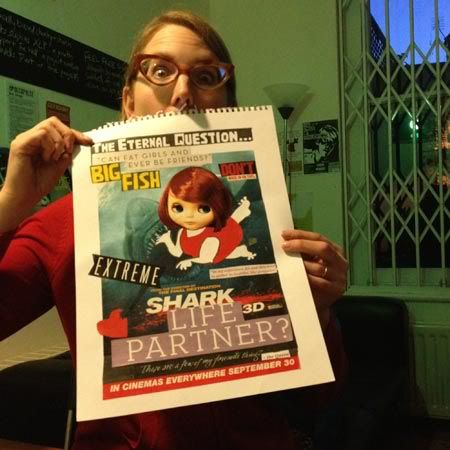 Mine started with a dumb article about the difficulty of fat girls and thin girls being friends (wha..?) but then I saw a shark movie advert and it all got very silly.
(
Collapse
)