Our fab fellow Fleece Officer,
Ellen Lindner
, has always shown dedication in her studio commute, coming all the way to
The Fleece Station
in Deptford from her home by Oval Cricket Ground. But she's stretching it out even further next week by moving back with her lovely husband
Stephen Betts
(founder of
Comix Influx
translation website) to New York City. So we're not actually losing a studio mate, it's more that we're sending an ambassador to the fine comics folk on the other side of the pond. Despite all the budget cuts, Gary, Lauren and I persuaded the government to invest in an important bit of construction to make their to-ing and fro-ing much easier. (Purportedly it was for the Olympics, but people in the know realise it's just for Ellen and Stephen).
(We told them that Lauren drew most of the card, but you might spot quite a bit of Gary's handiwork right in the middle of the card.)
We presented them with their cable car ignition keys last night at Bloomsbury Lanes, which is a little bit of America right in the heart of the city. I didn't get a good shot of Ellen and Stephen together (they were sitting across the most enormous table, but here are
Barnaby Richards,
Tanya Meditzsky
, Ellen,
Lauren O'Farrell
and
Karrie Fransman
. We've had some good times with Ellen and Stephen, including our
trip to Angoulême comics festival in France
and
working MoCCA
and
Stumptown comics festivals
in NYC and Portland. We're really going to miss having her around the studio: singing funny songs with accompanying excellent dance moves, her imitation sounds of the studio pigeons just outside the door, her retro fashion tips, her little fingerless gloves-made-from-socks that she wears while she's inking comics, and her general enthusiasm with Stephen to encourage and help build the comics community right here in London.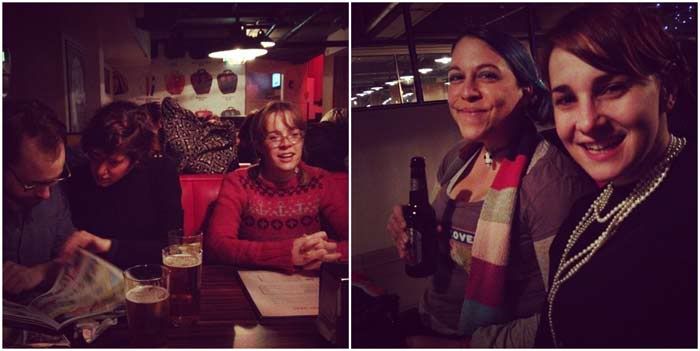 We've been saying goodbye to Ellen for awhile (and she's still planning to pop back into the studio) so Stuart and I didn't feel too terrible about bagging out of the post-dinner karaoke to meet up with Alex Milway to see illustrator
Chris Haughton
's show of design work he's commissioned from textile artists in Nepal.
(
Collapse
)